Polynesian Cultural Center stages Moanikeala Hula Fest, celebration of Hawaiian culture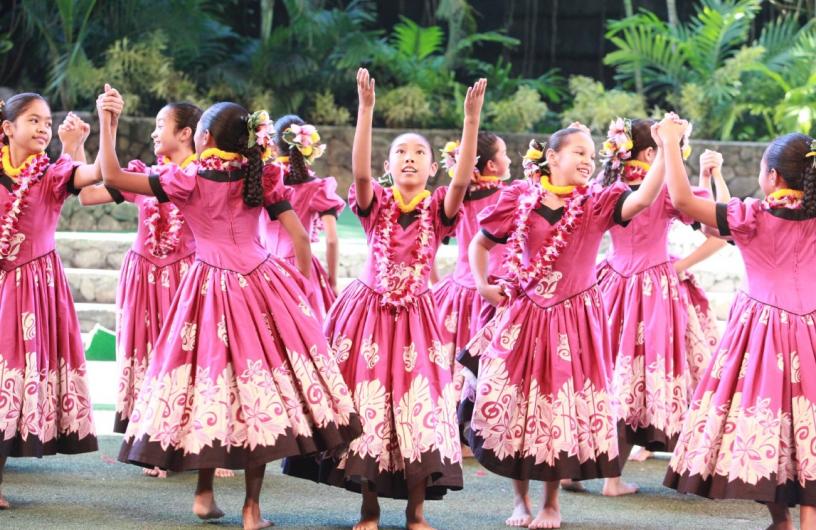 Hula schools (hula halau) from across Hawaii and Japan will take the stage at the Polynesian Cultural Center on Oahu this weekend for the 22nd annual Moanikeala Hula Festival.
The festival (hoike) will get under way at 10 a.m. on Sat., Jan. 21 at the center's Pacific Theater. Festival admission is $10 for adults, ages 16 and older; and $6 for children (keiki), ages 5 to 15. Admission is free for Kamaaina Annual Pass holders and keiki younger than 5. The event will wrap up at about 2 p.m.
The annual festival is held in honor of the Polynesian Cultural Center's first hula master (kumu hula), Aunty Sally Moanikeala Wood Naluai, who started teaching students (haumana) at the center when it opened in 1963 and continued until her retirement in 1980. After retiring, she worked with the PCC as a consultant until she passed away in 2000. Many of her past haumana have since formed their own halau.
The Moanikeala Hula Festival, which started as a keiki hula competition, is now presented as a hoike featuring dancers of all ages performing ancient (kahiko) and modern (auana) hula and celebrating Hawaiian culture.
In a new release, Ellen Gay Dela Rosa, PCC's theater director and Aunty Sally's niece said: "With her love and passion for sharing the Hawaiian culture, especially hula, Aunty Sally touched the hearts of many, not only in Hawaii, but throughout Polynesia, the Pacific and the world." She added, "Today her legacy is carried through her students, who continue to perform and share the culture of Hawaii."
The Polynesian Cultural Center estimates that 36 million visitors have attended its presentations about culture, arts and crafts of Polynesia. The nonprofit provides financial assistance to young people from more than 70 different countries while they attend Brigham Young University-Hawaii. PCC's revenue is used for daily operations and to support education. For more information about the center, click here.