"Power to the Poke": How to make Filipino "Jumping Salad" Shrimp Poke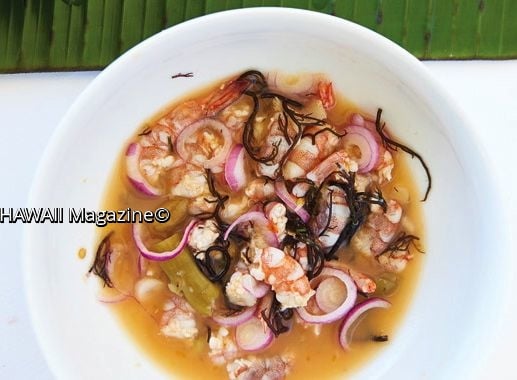 Five Hawaii chefs. Five anything-but-ahi poke recipes.
No disrespect to the noted palate pleasures of fresh tuna, but there's more diversity to the popular Hawaii-born comfort food favorite poke than simply using fresh ahi (tuna) as a main ingredient. That's what our upcoming November/December Food Issue feature "Power to the Poke" is all about.
For folks who truly love poke, the idea that you can "poke anything" is the very reason for the dish's infinite appeal. So we asked five Hawaii chefs to push the poke boundary by sharing their favorite ahi-less poke recipes, the story behind each recipe and their own history with poke.
You'll find the full "Power to the Poke" feature in our Food Issue with recipes by chefs Kimberley Oi of Lunchbox by Pili Group (Mediterranean Poke), Isaac Bancaco of Kaana Kitchen at Andaz Maui at Wailea Resort ("Hamajang" Onaga and Coconut Poke), Andrew Le of The Pig & The Lady (Kajiki Lemongrass-Kaffir Lime Poke), Robin Abad of the Halekulani hotel (Filipino "Jumping Salad" Shrimp Poke) and Kanoa Miura of Aloha Mondays (Truffle-yaki Mushroom Poke).
If you're a poke fan, you'll want to pick up a copy. Until you do, we've got one of the recipes from the poke feature here to whet your appetite: Chef Robin Abad's Filipino "Jumping Salad" Shrimp Poke.
Want the recipes from our four other "Power to the Poke" chefs? Pick up a copy of HAWAII Magazine's Food Issue, on sale now on iPad and Android, by subscription and on newsstands nationwide in November and December.
Enjoy!

Filipino "Jumping Salad" Shrimp Poke
Recipe by Robin Abad, sous chef, Halekulani hotel, Oahu

The sweet, tiny freshwater river-caught shrimp served still alive and leaping in the popular Filipino dish jumping salad was Abad's poke inspiration here. "The shrimp was dumped on the table. We'd have a bowl of spicy vinegar, calamansi and salt. We would catch the shrimp, dip it in the seasonings, scoop it with rice and eat," says Abad. His recipe uses cooked, non-jumping shrimp, but stays true to the dish's flavor, mixing in other jumping salad ingredients. "The amazing thing for me about poke is the simplicity of the dish's roots and how complex it can get while always reverting back to that simplicity," says Abad. His favorite poke ingredient? "I like good salt. When I'm eating poke and I get these crunches of salt, I just want to dive right into the ocean. If you have great salt, everything will fall into place."
8 oz. fresh amaebi (sweet shrimp), blanched, peeled, cubed
1 oz. pickled ogo (see recipe below)
1/4 oz. fresh ginger, grated
2 oz. Filipino chili vinegar (see recipe below)
2 oz. fresh calamansi (Filipino lime) juice
kosher salt, to taste
chicharron (pork skins), for garnish
Tear ogo by hand into bite-size pieces. Mix all ingredients together well and serve with chicharrons for dipping or broken up as garnish.
Eating tip: Serve with hot rice and nori (dried seaweed) sheets. Spoon hot rice onto a small sheet of nori seaweed. Place one or two pieces of shrimp poke and crumbled chicharron on rice. Close nori to surround poke and rice, like a sushi handroll. Eat.
Filipino Chili Vinegar
1 oz. Hawaiian chili pepper
12 oz. white vinegar
4 oz. water
½ oz. garlic, crushed
1 oz. ong choy (water spinach) stems
Kosher salt, to taste
Place all ingredients in a pot, bring to a simmer and taste for seasoning. Store in refrigerator and use as needed. (Yields 16 oz.)
Pickled Ogo
4 oz. Kombu Pickle Liquid (see recipe below)
8 oz. ogo (seaweed)
2 oz. ginger, grated
4 oz. onions, sliced
1/8 oz. Hawaiian chili pepper
Kosher salt, to taste
Note: Abad recommends the fine, feathery variety of ogo, rather than the thicker, more stick-like type. Place all ingredients in a container, mix and taste for seasoning. Store in refrigerator and use as needed. (Yields 16 oz.)
Kombu Pickle Liquid
2" x 2" kombu (dried kelp sheets, found in Asian markets)
10 oz. rice vinegar
6 oz. sugar
Kosher salt, to taste
Place all ingredients in a pot and bring to a simmer. Let cool, store in refrigerator and use as needed. (Yields 16 oz.)