Prince Lot Hula Festival slated for this weekend at Oahu's Moanalua Gardens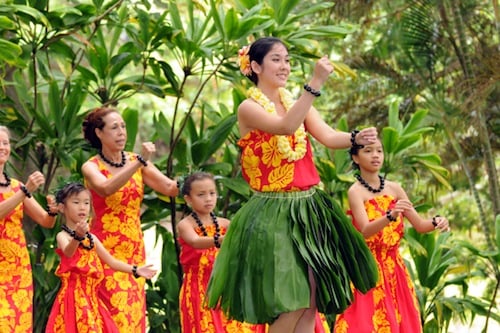 The 35th annual Prince Lot Hula Festival — Hawaii's oldest and largest non-competitive hula celebration held each year to honor Prince Lot Kapuaiwa, who revived the once-banned hula — is set for 9 a.m. to 4 p.m. on Sat., July 21 at Moanalua Gardens on Oahu.

The event will feature both hula kahiko (ancient) hula and chant, and auana (modern) hula performances. Dancers will perform on one of the few remaining pa hula (hula mounds) in Hawaii.
In a press release issued by the event's organizers, Moanalua Gardens Foundation, Alika Jamile, the nonprofit's executive director and president said that the theme, Laukanaka Ka Hula (A Multitude of Hula Groups Gather) is "based on the traditional oli (chant) that talks about groups of hula people coming together to celebrate hula. It speaks to people from all over who appreciate hula."
The festival's namesake, King Kamehameha V, Prince Lot (pictured, below) — the last of the direct descendants of King Kamehameha the Great to rule the Kingdom of Hawaii — had a summer cottage on the Moanalua Garden's grounds. (The cottage is still on the grounds.) The monarch's rule began in 1863 and ended in 1872.
For a complete festival performance schedule, click here. There is no charge to attend the event, however a "button donation" to foundation is requested to raise funds to support the festival. Limited edition T-shirts will also be sold as a fundraising item. Local food and refreshments will be available for purchase throughout the day.

Festivalgoers are encouraged to bring beach chairs and mats and enjoy the fun, food and festivities under the monkeypod trees of Moanalua Gardens.
One of the monkeypods — a large tree, with an umbrella-shaped canopy — is dubbed "Hitachi" tree because Japanese electronics manufacturer Hitachi, Ltd. has used the tree as a corporate symbol since 1973. It grows in the middle of the 24-acre gardens. The tree is registered as an "exceptional tree" by the City and County of Honolulu and cannot be removed or destroyed without city council approval
Moanalua Gardens Foundation aims to "preserve and perpetuate the history, native culture and environment of Hawaii through education, celebration and stewardship at Moanalua Gardens and Kamananui Valley." For more information about Moanalua Gardens and the foundation, call (808) 839-5334 or click here.