Pro Bowl Week to kick off in Hawaii with roster of free football-related festivities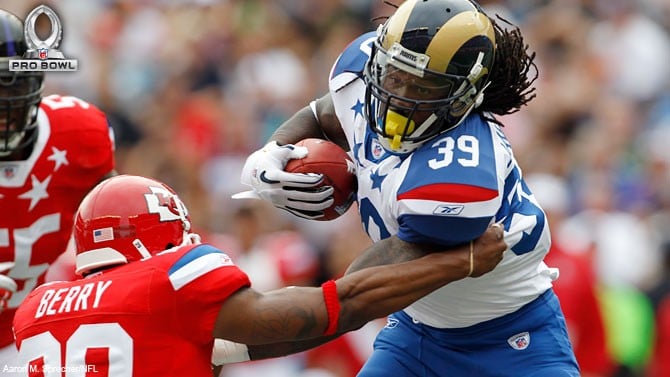 Some world's best pro football players are now touching down in Hawaii for this weekend's 2012 NFL Pro Bowl at Oahu's Aloha Stadium.

The all-star game, in which the NFC (National Football Conference) squares off against the AFC (American Football Conference) will get under way at 2 p.m. (Hawaii time) on Sunday, and will be televised nationally on NBC. If you're on Oahu, Pro Bowl Week offer a chance to meet some of the players and cheerleaders and take part in festivities. (See 2012 Pro Bowl Week listing below.)
The Pro Bowl was held at Aloha Stadium for nearly three decades, from 1980 to 2009. In 2010, it moved to Sun Lite Stadium, home of the Miami Dolphins. Last year, it moved back to Aloha Stadium and scored the biggest TV audience for the all-star game since 2000.
According to Nielsen TV ratings, the 2011 Pro Bowl, broadcast on the FOX Network, drew 12.4 million viewers, an uptick of 37 percent from the game's 2010 ratings. After hosting the game in Miami, the National Football League moved the Pro Bowl back to Aloha Stadium for the first game of a two-year contract keeping it in Hawaii. The contract has required Hawaii to pay $4 million per game. The NFL hasn't selected Pro Bowl locations for 2013 and beyond.

2012 Pro Bowl Week events
• Sunset on the Beach — A pep rally of sorts, with guest appearances by the Pro Bowl cheerleaders and mascots. There will also be a movie screened on Waikiki Beach, 4:30 p.m. to 9 p.m. on Fri., Jan. 27 (Queen's Beach, Waikiki) Admission: free.
• Pro Bowl Ohana Day Celebration — This morning event features fan contests, player interviews, NFL video features and a preview of the Pro Bowl game entertainment. There will even be a special Kid's Zone where keiki can enjoy special contests, prizes, presentations and "mascot mania." 9 a.m. to noon on Sat., Jan. 28 at Aloha Stadium. Admission: free
• Youth Football & Cheerleading Clinics — Advanced registration is required. Contact the Honolulu Boys and Girls Club or the Honolulu YMCA for registration information. 10 a.m. to 2:45 p.m on Sat., Jan. 28. at Kapiolani Park. Admission: free
• Pro Bowl All-Star Block Party — A stretch of Waikiki's main street shuts down to make way for a block party featuring NFL players, cheerleaders, mascots and local celebrities. There will also be six entertainment stages, food and local crafts. 7 p.m. to 10 p.m on Sat., Jan. 28., Kalakaua Avenue. Admission: free.
• Pro Bowl Touchdown Club — NFL food court, bands, appearances by NFL players and cheerleaders. 10 a.m. to 1:30 p.m. on Sun., Jan.29. Aloha Stadium, Lot 8B (North End). Admission: free to Pro Bowl ticketholders.
• Official Pro Bowl Tailgate Party — The party will be held at Richardson Field, which overlooks Pearl Harbor and is a short walk from Aloha Stadium. Entertainment and food included with admission. 11 a.m. to 1:30 p.m. on San., Jan. 29 Tickets available through Ticketmaster. Tailgate Party "will call" tickets will be issued by Ticketmaster at Richardson Field site only.
• Pro Bowl Pregame Ceremonies — The pregame show will include tributes to the Pro Bowl and Super Bowl and a live performance by Hot Chelle Rae. 1:30 p.m. to 2 p.m. on Sun., Jan. 29 at Aloha Stadium. Admission: included with Pro Bowl ticket.
For additional information about Pro Bowl game and tailgate party tickets, click here.