Proposed vision for Lanai's future includes hotel, runway and green-minded utilities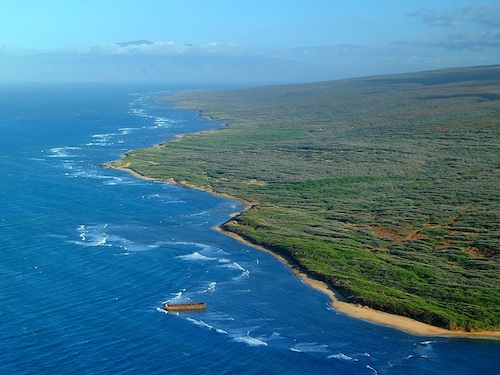 Seven months after Larry Ellison, co-founder and CEO of business software giant Oracle Corporation, wrapped up the purchase of all but a small slice of Lanai, his vision for the island's future is taking shape.
According to news reports, Kurt Matsumoto, the chief operating officer of Ellison's Lanai Resorts LLC, presented a "vision statement" for the island at a Lanai Community Plan Advisory Committee meeting held last week.
The Maui News has reported that the vision includes opening a third luxury bungalow-style hotel on the island, construction of a desalination plant, and a new airport runway. In addition, Pacific Business News has reported that Ellison also wants to eventually power the entire Pineapple Isle with solar energy. A timeline for the proposals has yet to be released.
Ellison purchased 98 percent of the 141-square-mile island in June. The deal, which reportedly cost the billionaire about $500 million, includes the island's two resorts, a golf club, and the island's water and electric utilities. (Maui County, in tandem with the State of Hawaii, owns the remaining 2 percent-slice of the island.)
In October, Ellison spoke publicly about the sale for the first time. During an interview earlier this week on CNBC's "Closing Bell" with Maria Bartiromo, He briefly described his hopes for establishing the islands as a model for green-minded living, but did not offer specifics about timeframe or the scope of his vision.
Lanai — the state of Hawaii's smallest publicly accessible island — is believed to be the largest privately held island in the United States. Most of the 430 miles of roads are unpaved and there are no stoplights. At its widest point, Lanai's terrain stretches for 18 miles between shorelines.