Pssst! Want to see an amazing new Kilauea volcano photo?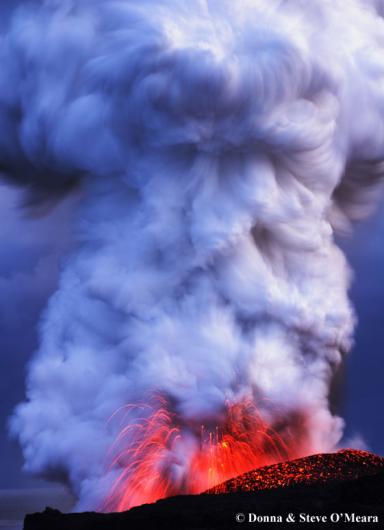 Our world-famous volcano-watching friends Steven and Donna O'Meara just sent this breathtaking new photo from their recent Kilauea volcano adventures for HawaiiMagazine.com readers.
Donna called it, "by far, the most majestic image I have ever taken in 24 years. … I always knew Kilauea was a world-class volcano and now she's proving it. … This image for us is like being on American Idol and nailing the finals!"
We agree. It sings, Donna.
Here's the rest of the O'Meara's note to our Web site readers:
This is the most recent photo in our lava diary—taken at dusk on July 14.
Any of you considering a visit to Hawaii should come here now. Kilauea has not been this active in decades. Hundreds at the (Puna) coastline on Monday were treated once again to an Oscar-worthy performance. This, after almost a dozen nights!
It doesn't get better than this!
If it does get better, tho, we're confident the O'Meara's will be there to capture it for us.
Many thanks, Donna and Steve!
Readers … please feel free to let the O'Meara's know what you think of this—and all of the other photos they've sent our way—with a comment below.