Public memorial services for Hawaii Senator Daniel Inouye set for this weekend on Oahu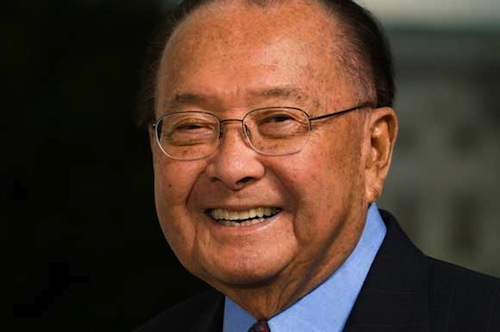 A memorial service for Hawaii's Sen. Daniel K. Inouye will be held on Sun. Dec. 23 at Oahu's National Memorial Cemetery of the Pacific at Punchbowl.
The Medal of Honor recipient who represented the Islands in Congress for 50 years died Monday of respiratory complications at a Washington D.C.-area hospital. Inouye, 88, was president pro tempore of the Senate and, as the Senate's senior member, third in the line of presidential succession.
Services for Inouye began yesterday in the U.S. Capitol rotunda, a rare honor usually reserved for presidents and historical figures. Among them: Presidents Abraham Lincoln, John F. Kennedy and Ronald Reagan. The last person to lie in state in the U.S. Capitol rotunda was President Gerald Ford in 2007.
A public memorial service will be held for Inouye at 10:30 a.m. (5:30 a.m. Hawaii time) in Washington National Cathedral. Inouye will lie in state at Hawaii's State Capitol tomorrow evening, with public viewing from 5 p.m. until midnight.
The final memorial service will be held at 10 a.m. Sunday at the National Memorial Cemetery of the Pacific at Punchbowl.
Inouye, who grew up in Oahu's Honolulu area, began his career in public service at the age of 17 when he enlisted in the U.S. Army shortly after Imperial Japan attacked Pearl Harbor on Dec. 7, 1941. He served with "E" company of the 442 Regimental Combat Team, as group consisting entirely of Americans of Japanese ancestry. The combat team, known for its motto of "Go for Broke," would become one of the most decorated military units in history. Inouye lost his right arm while charging machine gun nests on a hill in San Terenzo, Italy on April 21, 1945. His actions during that battle earned him the Medal of Honor.
Three years after statehood was established in 1959, Inouye, a Democrat, was elected to the U.S. Senate where he served for nearly nine consecutive terms.
The senator's widow, Irene Hirano Inouye, yesterday announced the start of The Daniel K. Inouye Memorial Fund, which has been created at the Hawaii Community Foundation at her request. The fund aims to help the organizations and causes Inouye supported. For contribution information, click here.