Pure Zip: Our favorite Hawaii Island courses for zipline purists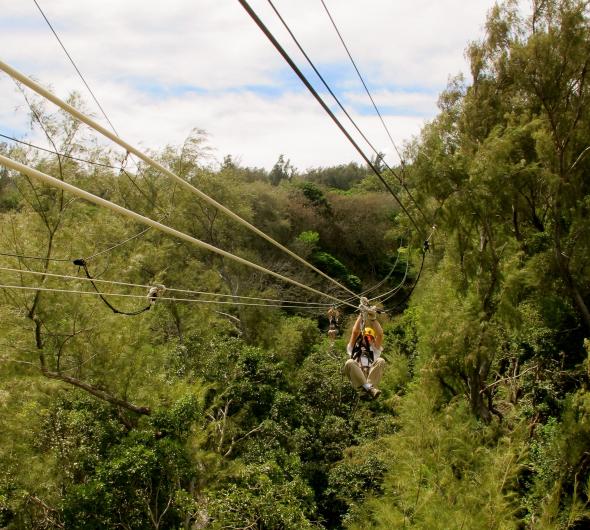 Hello. My name is Derek and I am a zipline addict.
I've been hooked since the first time I was strapped, nervous as all get out, into a trolley harness and sent speeding down a course of steel cables strung high across West Maui Mountain gulches five years ago. A couple of years after that, I took on 34 ziplines in four days for a feature covering every zipline course on Maui.
Back then, there were no zipline courses on Hawaii Island—an island that, with its multitude of lush forests and deep, stream-carved gulches on its northeast Hamakua and Kohala coastlines, seemed otherwise perfect for the low-environmental-footprint outdoor activity. Flash forward three years and there are now multiple Hawaii Island zipline courses.
More than half of the Hawaii Island's zipline tours are part of businesses with other same-location activities, such as botanical garden walks, forest trail and waterfall hikes, kayaking and swimming. The rest? Outdoor adventure companies whose main business is offering zipline tours and only zipline tours.
Nothing against walks in a garden or swimming under a waterfall, but I was after just one thing: outdoor activity companies with Hawaii Island tours dedicated solely to my addiction and nothing else. In other words, pure ziplining.

Photo: Skyline Eco-Adeventures: Akaka Falls
Skyline Eco-Adventures: Akaka Falls
No. of lines: 7

Length of lines: 100 feet to 3,350 feet
Maximum height: 450 feet
Course ideal for: Distance addicts in search of the longest single zipline on Hawaii Island and folks wishing to zip over the lip of a waterfall.
Claim to fame: The longest single zipline on Hawaii Island, and second-longest in Hawai'i.
Every zipline on this course, situated on former sugar cane lands on the slopes of Mauna Kea, above Honomu town, is mere prelude, literally and emotionally, to the wallop of Line No. 7. It's not that the lines before this final dash are uninteresting. On the contrary, one line speeds you past the charming 40-foot waterfall of a small gulch. Another finds the ground beneath you suddenly, and surprisingly, dropping more than 200 feet in the midst of a mellow-enough ride just above a patch of scrub grass. All along the course are sweeping views of the Hamakua Coast and ocean beyond. It's just that No. 7 is supremely impressive—a 3,350-foot monster line that immediately sweeps riders down the length of a wide, forest-covered gulch at gravity-pulled speeds of up to 45 mph, over the crest of scenic 250-foot Kolekole Falls (still wildly impressive even at half the size of Akaka Falls, which is on state-owned land further upstream and not part of the tour).
Best zipline: Line No. 7. In addition to all of the cool stuff mentioned above, you'll be soaring at a peak height of 450 feet above Kolekole Stream on a ride that even at top speed takes up to a minute-and-a-half of airtime to complete.

Photo: Kohala Zipline
Kohala Zipline
No. of lines: 9

Length of lines: 110 feet to 1,100 feet
Maximum height: 100 feet
Course ideal for: First-timers and zipliners looking for a great beneath-the-forest-canopy course.
Claim to fame: The only zipline course on Hawaii Island that is 100 percent above ground from beginning 
to end.
Kohala Zipline calls its series of lines—almost all of them below the canopy of soaring eucalyptus and strung from tree to tree—an aerial trekking course. That's because from first line to final line participants never once touch terra firma. If you're not zipping from tree to tree, landing and taking off from circular platforms ingeniously built around tree trunks, you're moving from line to line and platform to platform on elevated rope-and-plank suspension bridges. All of it in the midst of lush Kohala mountain forest and flora. The lines here (save for the final one) don't traverse massive ravines, cascading waterfalls or great heights. But I loved the sensation of flying full speed through the thick forest, lines strung between narrowly spaced eucalyptus or appearing to swing dangerously close to their trunks. A so-called "Participant Control System," allowing riders to control their braking at the end of each line, took some getting used to—most courses use gravity brakes to bring riders to a stop—but I eventually enjoyed the challenge.
Best zipline: Line No. 9, whose 1,100-foot length offers the speediest ride of the bunch, breaking from the forest over a ravine and wood flume connecting the area's historic, century-old Kohala Ditch irrigation system.
(This feature was originally published in the January/February 2014 issue of HAWAII Magazine.)