Q&A with Oahu artist Sarah Caudle
Honolulu-based creative Sarah Caudle uses resin as her medium to perfectly present everything there is to love about the beach.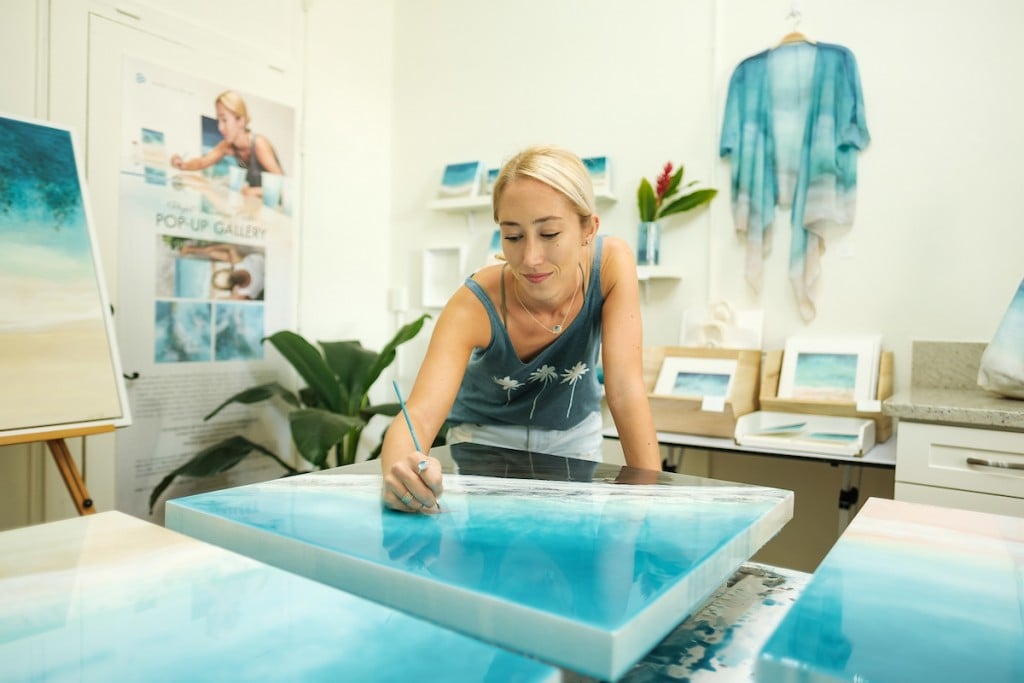 We've all seen the beach before. Hundreds of times, especially if you've lived in the Islands. However, Sarah Caudle, an artist who moved to Hawai'i five years ago from Georgia, has captured everything there is to love about the sea, from its flowing waves and bubbling sea foam to its golden shores, in a unique medium. Using resin, Caudle, presents the essence and feeling of being at the beach, and her work will connect with anyone who's ever stepped foot onto a sandy shore, looking out at the limitless blue beyond.
There are so many mediums for art out there, how did you decide on using resin?
I've played with all different mediums, trying to find the right one that connected with the sea and connected with me. And I'd actually been working with resin when I was doing jewelry, which got me looking more into resin. From there I started to learn how surfboards are shaped and glassed with resin and it's so awesome! The way [glassers] gloss it gives it a shine and depth. So after learning about that, I just went home, bought all the supplies I could and was like, "This is it. This is how I'm going to paint the ocean."
What was it like learning to create art with resin?
It's kind of an art and a science. It took about a year of trial and error. Now it's becoming kind of trendy, but when I was working with it, there wasn't anything. No online tutorials, nothing. I was just playing with it. What's cool about resin is that it moves and does its own thing. So you have to learn how to have the control to get what you want, but also to kind of take a step back and let it move on its own. You have to find that balance.
How do you find your inspiration to create new, unique pieces when your main focus is on one subject matter, beaches?
Living [on O'ahu], you really notice how every beach is unique. At Lanikai, it's more of a glowing ocean; the North Shore is darker and wild. Also, when I paint beaches, I'm not painting particular beaches; I'm more painting emotions. There's just something about water that everyone's really drawn to, and with beaches, I just have those memories, those special deep connections that I express through my paintings, and I want viewers to also find their own connection.
Resin tends to have a negative connotation since it's considered harmful to our environment. What steps are you taking to control that aspect?
When I studied industrial design in college, I actually minored in sustainability, so that's definitely a big part of my life. And living in Hawai'i, you can really see the effects of our waste and how it affects the ocean. So it's even more important for me now to work sustainably. I use eco-poxy, which is an epoxy resin that's made from soybeans grown on a farm in Canada. It's still not the best, but it's definitely the best option for resin. And when I'm creating my pieces, I try to eliminate as much waste as I can. I use vases as my mixing cups, which I then repurpose as, like, actual vases. They become pieces of art.
What's next for you? Are you planning on continuing with beaches or experimenting with other landscapes and mediums?
I'm sure I will down the road, but for now, I just have so many more ideas for the beaches that I want to play with. Using sunsets and sunrises, those colors. Some more neutral scenes, doing more collaborations with different artists. I just have so many more ideas, so for now, I'm sticking with the beach.
For more information, visit sarahcaudleart.com or follow her on Instagram at @sarahcaudleart.