Q&A: YouTube star Alex Aiono talks music, Radio Disney and Hawaii
Recently signed, Aiono's viral mashup of Drake's "One Dance" and Nicky Jam's "Hasta el Amanecer" drew mass attention to his musical abilities.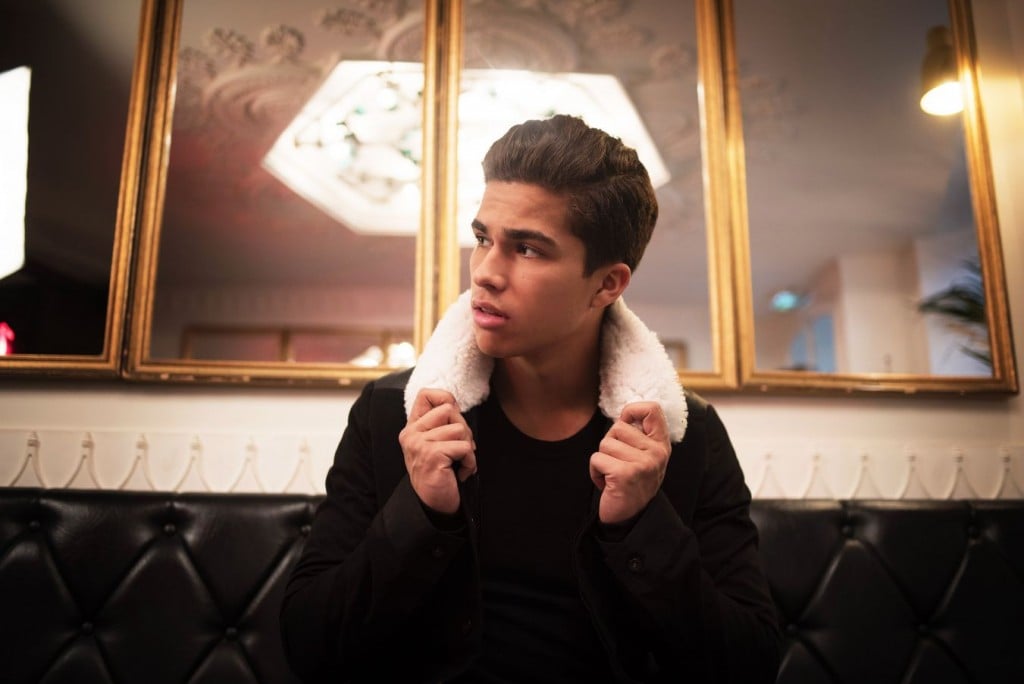 Alex Aiono, the 21-year-old singer-songwriter and Radio Disney show host, who's amassed 4.6 million YouTube subscribers and 2.1 million Instagram followers, just wrapped "The Changes Tour" in Hawaii with Australian-based singer-songwriter William Singe. Recently, Aiono talked with HAWAII Magazine about his debut single with Interscope Records, the upcoming Radio Disney Music Awards he's co-hosting, and how he first learned to play the ukulele.
Is this your first time in Hawaii?
No, my sisters actually went to college out here, so I would come out and visit them when they were in college. I've been here a ton of times.
What do you like to do when you come here?
I just like the North Shore honestly. We just spent the morning at the zipline in Kahuku, and then we spent some time in Haleiwa and went to my favorite sandwich shop and place to get an acai bowl. I would say, so far, today is successful and we have the show so it's going to just add the cherry on top.
What has it been like touring with William on "The Changes Tour"?
When we first met about a year ago, we just hit it right off. We became good friends. So being on tour with him has only made our friendship stronger. We've built memories and jokes and a bond that I really truly feel will last more than just this tour.
What are some of your favorite moments from the tour over the past few months?
Meeting the fans. That's the reason why Will and I decided to do this tour. We just wanted to get out and meet all of these fans that have been watching our videos, supporting us from their computer screens. I'm a solo artist, and most of the time I spend on stage is by myself and so it's been incredible being able to hop on stage with Will. We get to work together and we get to sing songs together, and have jam sessions like we do back when we're in LA. It's just a good time. I feel like that will always be a fun memory for me that I won't forget.
I know there are a lot of people who are excited you're in Hawaii. Do you have plans to come back?
Absolutely. I felt so gutted that I had to miss a show and the one on Maui, so I definitely want to make it back here and make up for the shows I unfortunately can't make. As well as I have a lot of family out here. It's just a great place to be. It's definitely in my future plans to be back here.
When did you first know you loved singing?
I'm a classic Polynesian boy. I grew up with my family. We all sang, we all would grab instruments and we would just have jam sessions. We would just play songs we love and we go to church and sing. So it's always been a very important part of my life since I was a little kid.
Yes, I saw you also play ukulele.
It was actually one of my first instruments. It was introduced to me by my dad.
Any particular songs you like to play?
One of my favorite songs to play on ukulele is "By Your Side" by Sade. But I mean even the classics, you know, one of the first songs that I learned, which is probably the first song everybody learned, is "Somewhere Over the Rainbow." I mean, just getting to play songs in general, even modern day music, it's always great being able to play it on the ukulele because it brings back memories of my family and all my cousins and all that.
Do you mind sharing what your Polynesian background is?
My mom is white, she's from America. And my dad is half Samoan and half Maori. That's where the Polynesian roots are for my family. Aiono is a Samoan last name. There's a ton of Aionos in the Samoan culture. It's like the last name Smith.
Last year, you joined Radio Disney and you're co-hosting the Radio Disney Music Awards (RDMAs) later this month [on April 30]. That's super exciting.
I'm so excited.
What about the awards show are you most looking forward to?
It's going to be a great year. Last year, I got to participate in a smaller scale with the RDMAs and it was so exciting. But this year, obviously, I'm taking on a bigger role. I'm hosting it with a bunch of incredible people. I'm actually nominated for an award as well (Favorite Social Media Star), so I'm very, very excited and nervous to see how that award pans out. And if God blesses me with an award that night, I'll be very, very excited. There's also incredible performers, and, as I've said, there's other great hosts that I'm hosting the Radio Disney Music Awards with, so I'm just excited for the day overall.
Tell me the inspiration behind your new song, "Work the Middle."
I signed to Interscope Records about eight months ago and right when we started working together, our goal was to get a new song out, a brand new single to put out, cause I've been putting out a lot of covers, obviously. And we just immediately jumped into the studio. I was writing a bunch of songs. I was in the studio co-writing and I was also taking in songs from other songwriters. So "Work the Middle" is actually one of the songs I took in from another songwriter. So I didn't write it, but, to me, the inspiration is it's just a young song, a youthful song about kind of the way that dating is in the world today. It's very fun, it's very fun to play live. It's very fun to listen to. I just have a really good time every time I sing it.
What's next for you?
We have a lot of songs that are already finished. I can't divulge any information specifically, but I promise new music is coming a lot sooner than everybody thinks.