Raise your glass! Kapalua Wine & Food Festival returns for 31st year this weekend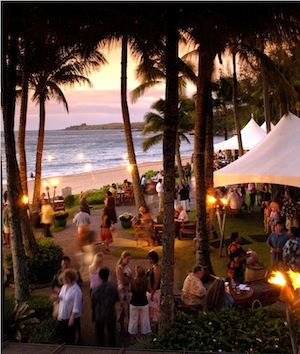 Great food. Great wine. Great location. Awesome weekend.
That's the annual draw of the Kapalua Wine & Food Festival, which kicks off its 31st edition this Friday, June 8, at west Maui's luxe Ritz-Carlton Kapalua Resort.
If you're on Maui this weekend and fancy yourself something of an epicure and/or oenophile, you won't find a better place to headquarter than this venerable Hawaii food event. Think four days of grand wine and food tasting events, winemaker dinners, wine seminars and culinary demonstrations and you get the picture.
The theme of this year's Kapalua Wine & Food Festival is "Lucky Live Hawaii." Translation for attendees? A line-up of culinary events singing the praises of all things Hawaii-grown and -raised, with an emphasis on the substantial culinary bounty found on Maui.
The grandest and most popular of the fest's weekend events are its bookending signature grazing dinners: The Grand Tasting on Friday, June 8, and Seafood Festival on Sunday, June 10. Our advice if you go to one or both? Bring an appetite. These are serious grazing dinners, with the beachside Seafood Festival alone offering cuisine from 13 top Maui restaurants and more than a hundred wines from around the world. The Grand Tasting opens the KW&FF weekend with more wines to savor and the cuisine of six Kapalua Resort restaurants.
If you're headed to the fest for the first time, The Grand Tasting and Seafood Festival are must-attend events. But the most entertaining fest events for repeat attendees—present company included—may be KW&FF's weekend wine seminars and winemaker dinners.
This year's schedule of KW&FF wine seminars includes Pinot Superstars, featuring colorful commentary and the personal favorite pinots of a half-dozen award-winning California vintners; Kings of Cabernet, a sampling of cab wines from around the world; and Viva Espana! a relaxing, informative morning of Spanish wine sampling. A word about the winemaker dinners for fest first-timers: Be prepared to have a tough time selecting which of Saturday evening's four multi-course, wine-paired meals to attend.
There's rarely a mediocre wine on the pairing menu or less-than-spirited evening of chat when fest regulars Gary Pisoni (Pisoni Vineyards) and Fred Scherrer (Scherrer Winery) are hosting winemaker dinners. This year, Pisoni's wines will be accompanied by an epic five-course dinner at Merriman's Restaurant, while Scherrer holds court over an impressive four-course menu at The Plantation House. Click here for the full schedule of Kapalua Wine & Food Festival winemaker dinners.
Also a must-attend on our fest schedule: a Saturday afternoon cooking demonstration with Ron Siegel of The Ritz-Carlton, San Francisco's Parallel 37 restaurant and lounge. Though Siegel doesn't boast about it on Parallel 37's website, he defeated Iron Chef French Hiroyuki Sakai on the original Japanese-version of Iron Chef, becoming the first U.S. chef to win in Kitchen Stadium. The theme ingredient of the Sakai vs. Seigel battle? Lobster. I simply have to see the man who handed a loss to my favorite Iron Chef in action.
Visit the Kapalua Wine & Food Festival website for more information, ticket prices and purchase, and information on Ritz-Carlton Kapalua accommodations packages. A complete schedule of fest events, seminars and winemaker dinners is here.