Rare Hawaii surfboards, photos highlight new Bishop Museum Surfing exhibit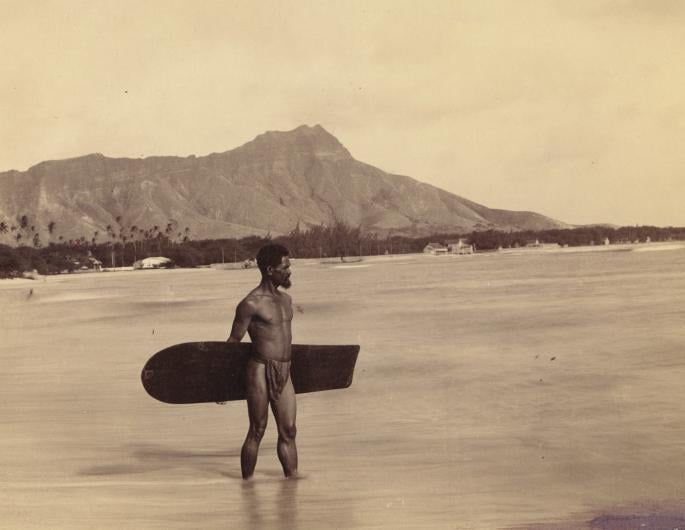 Hawaii's early Polynesian settlers were among the first people to take to the ocean to master the art of he'e nalu or "wave-sliding."
The sport the world now recognizes as surfing was especially popular with Hawaiian royalty, or alii. Their first plank boards were shaped from trees. The larger the waves you surfed, the more respect you would gain.
The Hawaiian even developed prayers to their Gods, hoping for good waves. Some disputes were settled by surfing contests. Surfing was less a recreational activity than an important part of the culture—a skilled art to master.
When European missionaries arrived in the 1820s, they forbade many Hawaiian cultural practices. One of these was surfing, which they considered a rowdy activity. Surfing remained a largely underground activity until 1905, when Hawaiians who lived near Waikiki began taking to the waves again. Worldwide interest in surfing began to take hold when Hawaii Olympian and avid surfer Duke Kahanamoku (second photo from top) showcased the sport on his international travels.
The new exhibit, Surfing: Featuring the Historic Surfboards in Bishop Museum's Collection, celebrates Hawaii's important role in the emergence of surfing as a worldwide sport. It opens this Saturday, June 19, at Oahu's Bishop Museum, and continues through Sept. 6, 2010.
The exhibit's main attraction? More than 25 antique surfboards — a few of these even used by alii to ride the Pacific swells.
"There are not many surviving surfboards from back then so these are wonderful historic artifacts," said DeSoto Brown, the museum's library and archives collection manager. "Visitors will get a sense of the evolution surfboards have gone through."
The Bishop Museum's archives are home to Hawaii's largest collection of historic photos. A selection of these related to the Islands' surfing history will be part of the exhibit.
"A lot of the photographic research I did years ago for my book on the historical background of surfing (Surfing: Historic Photos from Bishop Museum Archives) was the foundation of how this project came about," said Brown. "The exhibit is an opportunity for people to see rare photos that haven't been published before."
A handful of the photos in the exhibit are from Duke Kahanamoku's personal collection, which was donated to the museum by his widow. The exhibit will also feature examples of surfboard design and construction over the years—from simple wood planks to modern materials.
And sign us up for this one: The exhibit will also feature a modern surf simulator for visitors to test their boardriding prowess.
The Surfing exhibit is housed in the Bishop Museum's Castle Memorial Building. The museum is open Wednesdays through Mondays, from 9 a.m. to 5 p.m. The museum is closed on Tuesdays.
For more information on the exhibit and directions to the museum, visit the Bishop Museum's website.