Rare hawksbill sea turtles at Hawaii Volcanoes National Park to benefit from conservation grant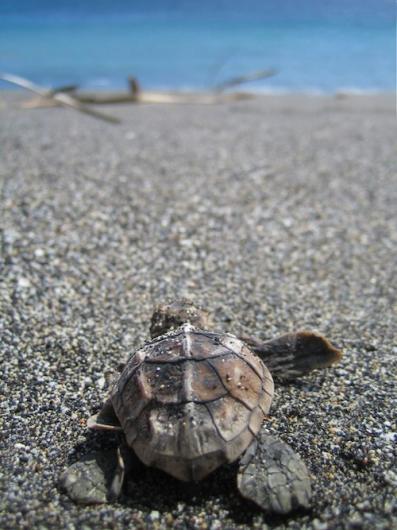 With only the moon's dim glow lighting their path, the hawksbill turtle hatchlings scoot towards the ocean on sand-speckled flippers, hoping to avoid hungry beach-roaming mongooses, feral cats and crabs that would appreciate such an easy meal. As breaking waves wash over their inch-long, heart-shaped shells, the hatchlings scatter throughout the sea, doing their best not to attract attention from large, predatory fish.
For tiny hawksbill turtle hatchlings, it's a big, dangerous world. But for mother and baby hawksbills crawling in the sand at Apua Point, Halape and Keauhou on Hawaii Island this nesting season, the world—or at least their beach—may become a safer place.
Recently, Hawaii Volcanoes National Park, along with 23 other national parks throughout the U.S., was selected to receive a 2014 Impact Grant from the National Park Foundation. The $19,200 grant the Hawaii Island national park is receiving will be used to supplement its efforts to protect the federally endangered hawksbill turtles, known in Hawaii as honuea.
Many of Hawaii's locals and visitors are familiar with honu, the Hawaiian green sea turtle beachgoers frequently see swimming our coastlines or getting some shuteye and sun on our sandy beaches. Lesser known is its sharp-beaked cousin, the hawksbill turtle. Never heard of the honuea? That's probably because it's extremely rare. Due to predation, poaching, and loss of habitat, the honuea population is at a critically low level.
Honuea hatchling. Photo: NPS
There are only a few known honuea nesting beaches in the Islands, but three of them—Apua Point, Halape and Keauhou—are protected under the jurisdiction of Hawaii Volcanoes National Park. These beaches are where park staff will concentrate their Impact Grant-funded conservation efforts. Staff and volunteers will team up to monitor the beaches and rescue distressed eggs, hatchlings and nesting female honuea. They will also do their best to improve known honuea habitats and provide more information to beachgoers about the hawksbill turtles.
Honuea live for an estimated 30 to 50 years in the wild, and nest every two to three years once mature. During nesting season, which occurs from late May to December, female honuea nest every 14 to 16 days. Females come to shore at night, make a flask-shaped hole using their hind flippers, lay an average of 180 eggs, then cover the nest with sand and return to the sea. After incubating for two months, the eggs hatch, and the honuea hatchlings travel across sand to the sea, avoiding predation by crabs, feral cats, mongooses and pigs on the beach, and predatory fish in the sea.
Currently, fewer than 20 female honuea nest each year in Hawaii, and only one in 1,000 hatchlings survive to adulthood. Says Dr. Rhonda Loh, Chief of Natural Resources management for Hawaii Volcanoes National Park, "The honuea is a much beloved sea turtle in Hawaii and it would be tragic to see this animal disappear from our shores. We're very excited to work with the National Park Foundation to restore nesting habitat."
The National Park Foundation is the official charity for U.S. National Parks. For the last seven years, it has provided annual grants to support park efforts for habit restoration, wildlife protection and conservation research that might otherwise get shelved due to lack of funding.
An adult female honuea returning to the sea after nesting. Photo: NPS
Although Hawaii Volcanoes National Park's Impact Grant may have a significant positive impact on honuea populations, you don't need to be a park staffer or volunteer to help these endangered creatures when staying at the park. Hawaii Volcanoes National Park staff recommends pitching campsites away from the sand at nesting beaches, so as not to disturb female turtles that are nesting, or their eggs and hatchlings. Artificial lights may distract and disorient honuea as they travel to and from shore, so if you're camping on a nesting beach, avoid building campfires and either direct all flashlights away from shore, or cover flashlights with a red filter. Keep beaches clean of food waste and trash so as not to attract predatory animals. Finally, if you do spot a hawksbill turtle, report it to national park rangers.