Rare peppermint angelfish on display only at Waikiki Aquarium in Hawaii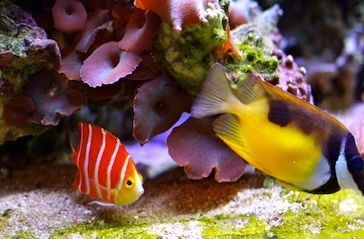 A peppermint angelfish, which is among the ocean's rarest creatures, is now on public display at Waikiki Aquarium on Oahu. And that's the only place you'll be able to see it, as the candy-striped fish is the only one of its kind to be included in an aquatic exhibit at a public aquarium. Anywhere.
The peppermint angelfish, also known as Centyropyge boylei, is native to the tropical waters of the South Pacific and is on permanent loan to the Waikiki Aquarium by the Smithsonian Institution. The fish, which measures about one and a half inches in length, was collected in waters near Tahiti, at depths of 400 feet, by Bishop Museum ichthyologist Richard Pyle. (In case you're wondering, as we were … ichthyology is a branch of zoology dedicated to the study of fish.)
In a new release issued by the Waikiki Aquarium, its director, Andrew Rossiter, said: "As a primarily research-based institution, we welcome these one-of-a-kind opportunities where we can not only share rare species with our visitors but also afford our staff the opportunity to study them."
Rossiter added, "This is a significant acquisition for us, as we are the only public aquarium in the world to display the peppermint angelfish. It joins several other unique species in our collection that can be seen here and at no other aquarium worldwide."
Founded in 1904, the Waikiki Aquarium — the third-oldest aquarium in the United States — showcases more than 500 marine species and maintains more than 3,500 marine animals, fish and other specimens. For information about the aquarium, including admission and operational hours, call (808) 923-9741 or click here.