Reader question: Helping seniors navigate a Waikiki vacation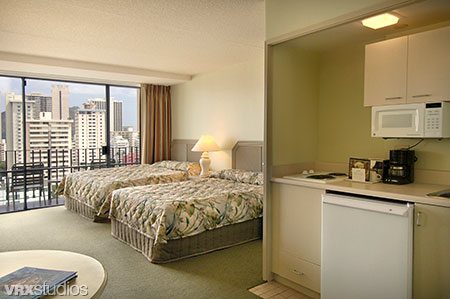 HAWAII Magazine reader Mary Jane Garvis wrote us with a few questions regarding her next vacation in Waikiki:
We have been visiting Oahu since 1980. We've always stayed on either Kuhio Avenue or near the Ala Wai Canal, but now that we are older, we are unable to walk the distance to the beach. Can you recommend a hotel with a kitchenette on or close to Kalakaua Avenue and the International Market Place that has reasonable rates? Also, is there any form of personal motorized transportation we could rent to go from store to store?
You ask, we answer.
Let's start with the easiest question. If you need personal transportation assistance, Honolulu Hawaii Wheelchair and Scooter Rentals offers wheelchairs and mobility scooters. They will even deliver to your hotel. Call (808) 772-9723 or reserve online here.
Now, as to accommodations, tastes and budgets differ. Though Waikiki, to some, appears crowded with hotels and resorts, affordable hotel rooms with kitchen facilities can be difficult to find. Still, we found a few for you.
The Ohana Waikiki West is offering double-occupancy rooms with kitchenette facilities (pictured above) starting at $115 a night. The hotel is located on Kuhio Avenue, close to the hustle and bustle of Duke's Lane and the International Market Place. Just across Kuhio Avenue, the Ohana Waikiki East also offers kitchenettes, with units starting at $199 a night.
If you're on a stricter budget, the Castle Ocean Resort Hotel Waikiki is offering discounted rates on city view studios with kitchenette (pictured right) for a low $76.50 a night. The hotel is located on the eastern end of Waikiki on Paoakalani Avenue, off Kalakaua Avenue. That's a 15 minute walk from the International Market Place, but only a two block walk from Waikiki Beach.
If you're planning a longer vacation, you might consider a fully furnished condo just east of Waikiki. Many have sweeping views of Waikiki beach and come with a full kitchen, lanai and parking space. All are also a short walk from Waikiki shopping and dining. Prices start at $3,600 for a minimum one-month rental, plus tax and a non-refundable cleaning fee. Contact alison@goldcoasthawaii.com for details and availability.
Does anyone else have advice for seniors planning a Waikiki vacation? Leave a comment below.