Reflections on lava and the secret way to see it at Hawaii Volcanoes National Park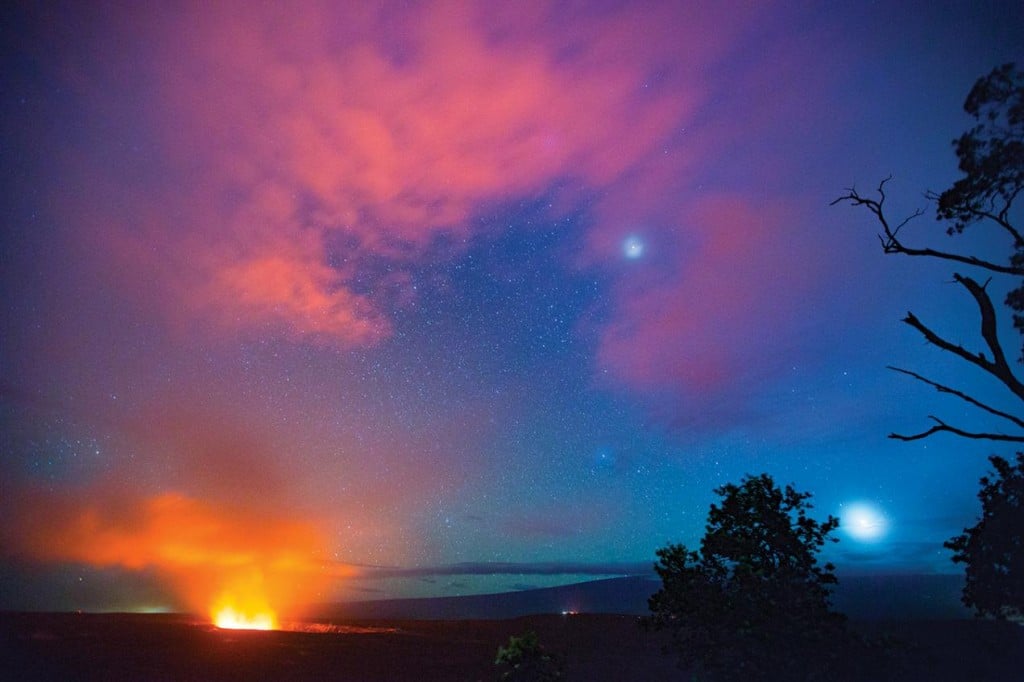 When you step inside the Kilauea visitor center, the first sign you notice is the one on everyone's mind: "How do I see lava?"
This burning question draws more than 1.5 million visitors annually from around the world, myself included, to this very spot at Hawaii Volcanoes National Park (HVNP) atop Kilauea's caldera. Among other lava-seekers on this early Friday morning, our eyes bright and expectant skim it, looking for an answer.
Currently, there are only two locations at the park where the molten phenomenon occurs, the sign informs. The first is a few miles up the road at Halemaumau Crater, the park's most popular sight below the Jaggar Museum. The other is Puu Oo, a vent that's been active since 1983 along the park's boundary, 10 miles from Kilauea's summit. Unlike Halemaumau, whose volcanic gas plume at dusk offers a shadow of its lava lake within, Puu Oo isn't as readily observable. There's no hike, guided tour or off-the-road overlook to any area within the park to actually see it as clearly. The only vantage point that rivals Halemaumau's is by air.
I check the updated alerts on the Hawaiian Volcano Observatory's website and today the elements aren't aligning in my favor. Puu Oo's plumes won't be visible from anywhere along the 19-mile drive, but I decide to do the two-hour roundtrip anyway. Right now, those recent remnants of its 2003 flow along the southern coastal plains of Hawaii Island are beckoning me, so I hit the road.
The beauty of Kilauea is the way it lets your mind fill in the blanks left by its brooding, barren landscape. As my shiny SUV makes sweeping turns around smooth, lustrous pavement, with black-and-blue terrain unfurling in my windshield, my imagination takes over and I can hear the voice of James Earl Jones narrating the start of my journey. "Life begins here in the ancient rock," his deep, all-knowing voice says as I whip past young flecks of native amau ferns breaking through the terra firma's cracks. "Creation is destruction!" he booms as I stare into the deep basins of Puhimau and Pauahi Crater, formed when magma drained from beneath the surface, causing the ground to terrifyingly collapse onto itself.
Midway through my drive, I park at Mau Loa o Mauna Ulu, which in Hawaiian means "the long, continuous growing mountain." From 1969 to 1974, a fissure erupted with a succession of flows that burned through the area's wooded shrub forests and grasslands, spitting up the desolate and surreal landscape seen here today.
With this mountain looming at my back, I tread forward onto the wide-open fields of pahoehoe, the smooth, twisted variant of lava that's especially glossy here. With no one around, I have all of its glassy surface to reflect on. I look back at the silhouette of Mauna Ulu and visualize the extraordinary lava fountain the vent that created it spewed into the air. At various times throughout its five-year eruption, scientific reports measured it to have surpassed 1,770 feet—taller than the Empire State Building.
Legend has it that it's Pele's brother Keoahikamakaua, the spirit of molten fountains, unleashing his mighty force. I remember the sign that greeted me at the visitor center again and am taken with how blunt, to the point of childlike, its five words, "How do I see lava?" are.
Clearly, the notion of lava—its polarizing extremes of liquid hot to rock hard in a single stroke—taps into something visceral within the human psyche, but it isn't owed to us. We're not entitled to experience one of our planet's most incredible natural catharses just because we handed over a credit card to come here. But, in this moment, picturing Keoahikamakaua's form shape-shift as he brandishes his spears glowing in his hands, I realize there are other ways to "see" lava here I hadn't even considered and it feels privately intense and just as rewarding.
Finally, I make it to the end of the Chain of Craters Road. A 15-minute walk past the Holei sea arch, you can see where Puu Oo's lava flow meets the road, but it's what you don't see all around it that's just as important. Twenty-six years ago, its flows eviscerated the village of Kalapana, destroying about 190 houses, a church, a general store and eventually the Wahaula Heiau, an ancient Hawaiian temple belonging to a special category called luakini, where human sacrifices would take place. Nothing of that is left, replaced only by this open area that's now a sobering intersection of where life, death and nature cross paths.
My day at the park ends where everyone's visit should: Halemaumau Crater at sunset. Like moths to an ancient flame, about 100 visitors line the overlook at Jaggar Museum to watch a plume of volcanic gas rise from what's believed to be Pele, the Hawaiian goddess of fire's home. The lava lake isn't visible from the overlook, but, after 12 hours spent exploring a volcano, every little thing has the ability to conjure lava. The way groups clump together, their collective silhouettes jutting out in all directions in the dark, resembles aa, the rough and jagged lava you see throughout the park. A visitor slowly stumbles through sounding out an unfamiliar Hawaiian word inspiring an image of a lethargically moving flow as it finally hardens into something resembling a shape. We're all bathed in the glow of Halemaumau, bronze and purple in the evening light, content with this spectacular moment of calm.