Relive the record breaking waves from this year's Eddie at new Waikiki exhibit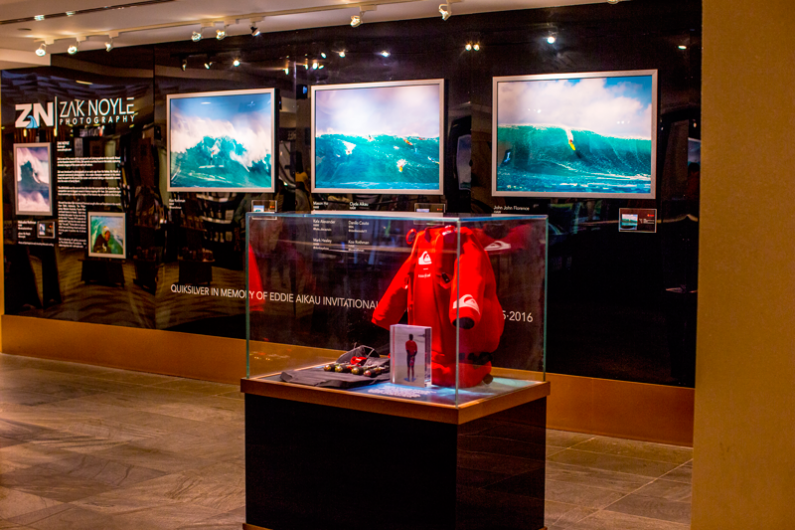 Whether or not you were one of the thousands who made it out to Waimea for this year's 31st annual Quiksilver in Memory of Eddie Aikau Big Wave Invitational, now is your chance to relive all the excitement from this past February when the bay called the day.
Oahu's preeminent big wave surf photographer, Zak Noyle, will display never-before-seen photos from the prestigious contest at the T Galleria by DFS in Waikiki. Noyle was the only photographer allowed in the open ocean to document all eight hours of the historic competition, which has only run nine times in its 31 year history.
On view will be awesome photos of the 50 foot waves, including Noyle's top 10 images from the Eddie. In attendance will be Clyde Aikau, the younger brother of Eddie Aikau, who surfed his final Eddie during this most recent invitational, alongside other professional surfers like Mason Ho, Mark Healey, Kala Alexander, Koa and Makuakai Rothman from the 2016 Eddie lineup.
And if you're a underwater photo enthusiast, you can check out the camera equipment Noyle used to capture what's on display here.
Free and open to the public, the launch event is this Saturday, from 7 to 9 p.m., and will raise funds and awareness for the Eddie Aikau Foundation, which is dedicated to promoting the advancement of Native Hawaiian culture.
The exhibit is on view now through August 31.
---
T Galleria by DFS, 330 Royal Hawaiian Ave., (808) 931-2700, dfs.com/en/tgalleria-hawaii