Renewing wedding vows on Oahu? What you need to know.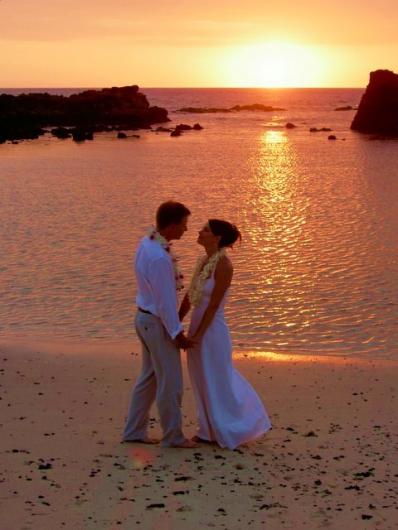 HAWAII Magazine reader Ida Gordon-Williams of Olathe, Kansas, asks us a two-part question:
On New Year's Eve 2010, my husband and I will have been married 25 years. We would like to renew our vows in Hawaii (Honolulu, I think). Four couples are traveling with us for the ceremony. Could you suggest two exceptionally beautiful spots for the ceremony and some inns or bed and breakfasts that would work for my guests? I don't want a big hotel. I want to be close to the island's beauty.
You ask. We answer.
Hawaii is a prime wedding destination—hundreds of couples tie the knot here each year. The Islands are just as popular for those looking to recommit their marriage. On Oahu, there's no place more famous for these ceremonies than Waikiki Beach.
Many Waikiki hotels offer vow renewal ceremonies to their guests for a reasonable price.
At the Outrigger Reef on the Beach or Outrigger Waikiki on the Beach resorts, the vow renewal ceremonies are free. Outrigger's Hoi Hou Ke Aloha—which translates to "fall in love all over again"— ceremonies are held every Tuesday and Friday morning in front of the Outrigger Reef on the Beach. A kahu (priest) leads couples down to the water's edge to exchange vows. The ceremony concludes with hula and a live performance of the Hawaiian Wedding Song.
For more information, or to sign up for Outrigger's vow renewal ceremony, click here, call (808) 923-3111 or email orf.concierge@outrigger.com.
If you'd like a more private ceremony, Magic Island at Ala Moana Beach Park, Waialae Beach in the posh Kahala neighborhood and Kakaako Waterfront Park are all popular—and beautiful—locations for renewal ceremonies.
Outside of Honolulu, Oahu's North Shore offers beautiful scenery, but during the winter season, high surf conditions limit beachside access. On the Windward Side of the island there are Waimanalo Beach, Kualoa Ranch and nearby Kualoa Beach. In Kailua town, there are Kailua and Lanikai Beaches, often considered among the best beaches in the state.
Many Oahu-based wedding companies perform vow renewal ceremonies on the beaches, often at similar rates as their wedding packages. But costs can easily surpass $1,000.
You'll also need a permit. Hawaii's Department of Land and Natural Resources requires a right-of-entry permit for all weddings and renewal ceremonies occurring on state beaches and unencumbered lands. The state implemented the new permit system to protect Hawaii's natural and cultural resources from harm and overuse. For a copy of the permit application forms, click here.
With the renewal ceremony squared away, finding the perfect bed and breakfast for your party of ten may be a bit trickier. Many Oahu B&Bs are small and can accommodate only a handful of guests at once.


The only Oahu B&B we could find suitable for larger groups is the Manoa Valley Inn (pictured right). Just minutes from Honolulu and Waikiki, the Victorian-style lodge can house as many as twenty guests in their ten rooms and two separate cottages.
Room rates range from $89 to $190 per night.
For more information click here, and call (808) 947-6019. We suggest that you book as soon as possible. Rooms will fill up fast during the holiday travel season.
Oahu B&B options open up considerably for smaller groups. There are too many B&Bs on the island for us to list, but they can be easily found on the Web.
Meanwhile here at HawaiiMagazine.com, we'll continue to report on the latest travel news and deals, to make your next visit to the Islands—whether you are renewing your vows or not—an unforgettable one.