Restaurant Week Hawaii 2013 is on! Deals at dozens of eateries now through Nov. 24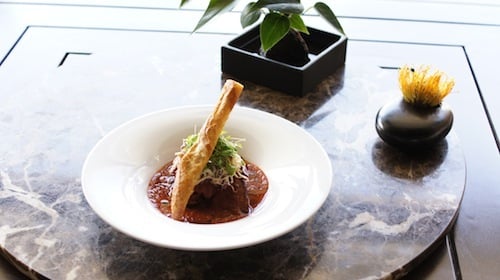 Whether you're a resident or visitor, you've got a really good reason to eat out in Hawaii this week.
From today through Nov. 24, more than 50 Hawaii eateries—from fine dining to uber-casual fast food places—are participating in the 6th annual Restaurant Week Hawaii, offering special menus, promotions and discounts.
It's a weeklong celebration of Hawaii's diverse cuisine scene, local ingredients and world-class chefs, with a portion of proceeds from the dishes you order supporting the University of Hawaii's Culinary Institute of the Pacific at Diamond Head—the state's first four-year culinary program. The celebration serves as a reminder that Hawaii is a top culinary destination, with its own cadre of noted chefs and unique forward-thinking cuisine trends.
Click on the full list of participating restaurants for links to each eatery's Restaurant Week Hawaii 2013 menus, which cover a wide range of tastes and cuisines—from upscale dining and fast food, to casual eateries, take-out and bars and lounges.
Eateries offering Restaurant Week Hawaii deals this year include Alan Wong's King Street and Pineapple Room, the Beachhouse at the Moana, Chef Chai, Diamond Head Market & Grill, Nobu Waikiki, Orchids at Halekulani, Prima, Salt Kitchen & Tasting Bar, 12th Avenue Grill, Big City Diner, Paina Café, multiple Roy's Restaurant locations and many more. The dish pictured above? One of the Restaurant Week Hawaii deal menu entree offerings at Waiolu lounge at Trump Waikiki: Pan-fried catch-of-the-day marinated with Mexican adobo, with chipotle coleslaw.
The majority of restaurants participating in Restaurant Week Hawaii are on Oahu, but you'll find a handful of great deals on Maui, the Big Island and Kauai, too.
We recommend contacting restaurants in advance to confirm their Restaurant Week Hawaii specials and ask if reservations are recommended.