Rob Pacheco: 5 Things I Love About Hiking Hawaii Island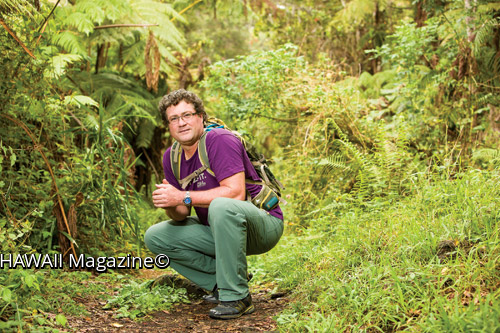 Rob Pacheco traces the origins of his lifelong passion for trekking the great outdoors to a stocky bird that kept showing up in a rice field near his childhood home in California's Sacramento Valley.
Driven to identify it, he located a copy of Audubon's Birds of America and discovered the bird was a reed dweller called the American Bittern. Heading even further into nature, hoping to find more birds in their natural habitat, the future founder of Hawaii Island eco-adventure outfitter Hawaii Forest & Trail unconsciously fell in love with hiking.
"As a birder, you're not thinking that you're hiking," says Pacheco, 50, chuckling. "You just think that you're walking around looking for birds. I became obsessed with that intellectual connection with nature."
Moving to Boulder, Colo., to work as a naturalist, Pacheco quickly took to backpacking the mountainous state's miles of trails. He did the same upon taking a beekeeping job on Hawaii Island (aka the Big Island) in 1990, exploring the island's multitude of ecosystems in his off hours.
"There's a lot more diversity here on the Big Island, especially in the types of trails," says Pacheco. "There are coastal trails, valley ridge trails with streams and waterfalls, trails through lava fields and rainforests, subalpine and alpine trails."
Pacheco opened Hawaii Forest & Trail in 1994, smitten with Hawaii's volcanic geology, geographical isolation and the intertwining of nature with history and culture here. The company's guided tours fuse Pacheco's passion for natural history with his belief that educating people protects Hawaii's fragile environment.
Thanks to partnerships with private landowners, the company's sundry menu of tours often transports guests to remote, little-trammeled Hawaii Island native ecosystems otherwise inaccessible. Staff naturalists are required to have backgrounds in biology, geology and Hawaiian history, and a passion for the natural world, just like Pacheco himself.
On the rare tour he leads these days, Pacheco's enthusiasm for the Hawaii Island is not only still remarkably palpable, but infectious. He's also outdoors as often as time permits.
"The Big Island is really one of the few places where everything you experience is native," says Pacheco. "It's pretty amazing."
The five things he loves about hiking Hawaii Island?
1. STORIES
"There's a real, tangible connection to the past [when you're hiking here]. You're walking on trails that kings and gods walked on. There are moolelo (stories) we have about certain places, the archaeology, the sites and the people of old. These are things that always make me stop and ponder and appreciate."
2. LAVA
"Not just the molten stuff, but also hardened lava and all of the wonderful shapes and forms and life it brings. Even with a [long-cooled Kilauea volcano flow], I could be in a dense rainforest and the topography and nature of the forest are still defined by that flow. To have that under my feet is always remarkable to me."
3. SUCH GREAT HEIGHTS
"We have a lot of high country trails here, especially when compared to the other islands. You can get up in elevation and get that rarified air of altitude. There's something about being high up in alpine country. The smells. The way the sun beats on you. The breeze. It's almost lighter than, say, when you're hiking down on the coast. It lifts your spirits to be up there."
4. OASES
"When I'm on the Puu Oo Trail or Kaumana Trail, I love the kipuka (vegetated oases encircled by hardened lava). I love the plants, the little critters and the birds [of the older forests]. It's like visiting a little country with its unique residents. You are immersed in a truly native Hawaiian universe."
5. SOLITUDE
"Lots of times you have the trails to yourself here. You get on these paths and there's nobody, or very few people, around. Puu Huluhulu [a trail in Hawaii Volcanoes National Park] is like that. Sometimes I stop there on my way back from Hilo and get a little workout and a nature moment. Depending on the time of day, I can often have that whole little hill to myself."
Hawaii Forest & Trail
(800) 464-1993 • hawaii-forest.com
(This feature was originally published in the May/June 2014 issue of HAWAII Magazine.)