Robert Cazimero: 5 Things I Love About Creating Music for Hula
Keeping Hawaiian music and hula dynamic in a way that honors the stories and traditions of the past is his life's work.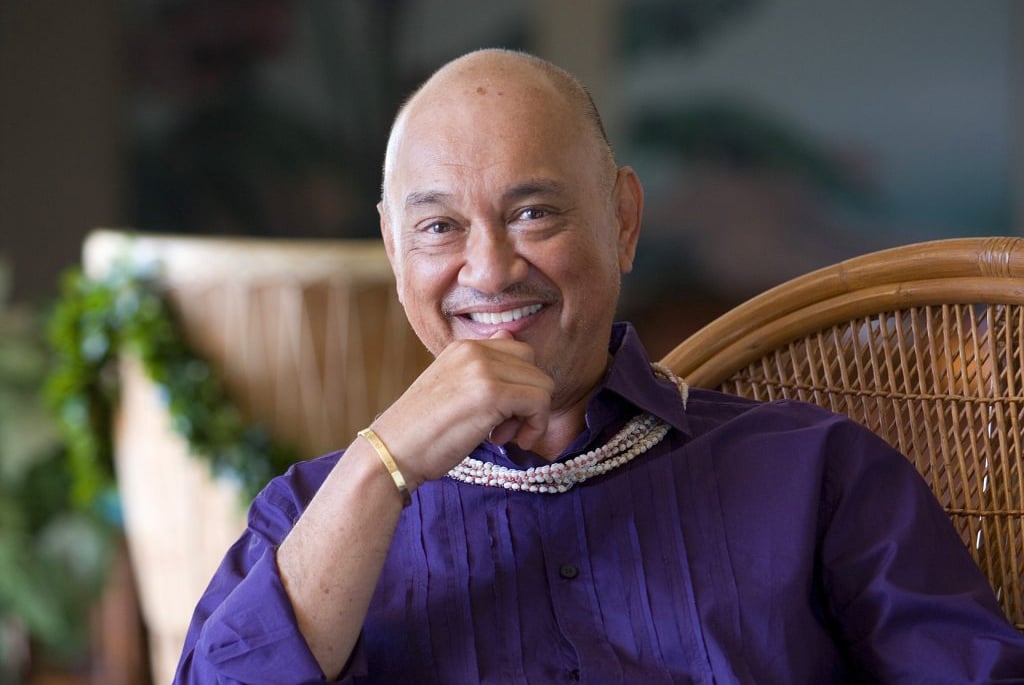 Keeping Hawaiian music and hula dynamic in a way that honors the stories and traditions of the past is the life-work of Robert Cazimero.
"My grandfather said to me many years ago, it would be our generation that wants to keep it alive, the next generation who wouldn't want it, and the one following who would," says Cazimero, of the two cultural art forms.
"It's a constant battle. My brother, Roland, and I find ourselves at the crossroads of what was and what can be. It's important that our generation lives long and takes care of itself. We have to be around and remember the stories so we can correct any mistakes."
Cazimero stays on task. He was an instrumental figure in the Hawaiian Cultural Renaissance of the 1970s, which renewed interest in Hawaiian music, hula, language, history and other cultural elements then in danger of being lost to time. He is a pioneering musician and composer, recognized for his award-winning catalogue of music with Roland in The Brothers Cazimero, and on his own as a solo artist. He is also a respected kumu hula (hula teacher), dedicating his Halau Na Kamalei troupe to the tradition of male hula. A Brothers Caz or Cazimero solo music concert without hula is all but unheard of.
Cazimero merged his love of both Hawaiian art forms in 2011's Hula and 2013's Hula 2, filling each solo album with his favorite traditional and contemporary songs for hula and little more than his soothing piano playing and sublime vocals.
"[The piano] was my first instrument, my best friend, like comfort food," says Cazimero. "I love that if there is a dancer, I can watch and play with tempos, shading and with delivery, depending on how good that dancer is. And I love when people ask, 'How do you hold that [vocal] note for so long?'" His answer: "Prayer!"
The five things he loves about creating music for hula?
1. SHARING
"I like to share these songs that are new and old and give them all the worth that I can give with my piano and my voice. I love performing them live, but I also love being in the studio. It's such a pleasure to honor these songwriters."
2. REWARDING
"To have people dance is so rewarding. In my workshops, I choreograph hula to go with songs and I create dances to go with my music. What I really love is if someone says to me, 'I'm teaching about three songs from your CD [to hula students] and we like it.' I especially like when people say they play it on their commute because it is calming."
3. SELECTION
"I love the process of choosing songs for hula—sometimes helter-skelter, sometimes with much thought behind it. I liked coming to the studio and having [Hula and Hula 2 producer] Jon de Mello say, 'OK. Do it and let's see what you've got,' and then deciding if I liked it."
4. SIGNING CDs
"I love signing the Hula CDs and knowing where they are going. When I was in the seventh grade at Kamehameha Schools, my teacher gave me an 'F' for penmanship and told me I would never amount to anything that would deserve my fancy handwriting. When I made my first album with [Hawaiian vocal group] The Sunday Manoa [in 1969] I signed it beautifully and fanciful and took it to her."
5. CELEBRATION
"Allowing myself to say, 'Good job!' and knowing there is another CD [of hula and Hawaiian music] out there that will last longer than I will be here. They are my immortality."

Robert Cazimero's
Hula
and
Hula 2
albums
are available from Mountain Apple Co. and from iTunes. Click on the Spotify link below to listen to music from
Hula 2
.