Roseanne Barr to get nutty on new Hawaii-filmed reality TV show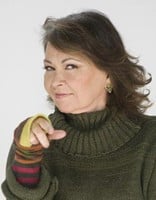 Nutty? Unshelled?
Many words come to mind to describe a just-announced Lifetime network reality TV show, which will follow comedienne/self-proclaimed domestic goddess Roseanne Barr as she runs a macadamia nut and livestock farm in Honokaa on the Big Island of Hawaii.
"I'm coming back down to earth, and keeping it real. They've said 'Roseanne's nuts' for years, and now I'm going to make that a reality — I'm all about nuts now, macadamia nuts!" said the Emmy award-winning actress in a press release, issued this week by Lifetime, which will air the half-hour docu-series later this year.
The Big Island-angle isn't a set up for TV. The ever-colorful Barr has been living on and managing a 46-acre macadamia and livestock farm with her longtime boyfriend Johnny Argent and son Jake for about three years. She has written about her appreciation of Hilo for Entertainment Weekly and occasionally posts photos of her Big Island spread on her website, Roseanne World.
And so far, the Big Island has mostly embraced Barr right back. Hundreds of fans formed a line outside downtown Hilo's Hairy Monkey Books last Saturday to meet Barr and have her sign copies of her latest book, Roseannearchy: Dispatches from the Nut Farm. Wearing orchid and pikake lei from fans, Barr read a few passages from her book and, by all accounts, seemed very happy to be meeting with her Hilo faithful.

Lifetime has ordered 16 half-hour episodes of Barr's as-yet-untitled, unscripted reality show, whose press release promised a TV experience "funny, outrageous and unfiltered."
Barr became a household name with her Emmy Award-winning sitcom, Roseanne, which enjoyed a nine-season run on ABC between 1988 and 1997. In recent years, she has returned to her stand-up comedy roots and launched a writing career. Roseannearchy is her third book.
Honokaa (population: 2,233 in 2000) is the largest of several former sugar plantation towns on the Big Island of Hawaii's rugged, picturesque Hamakua Coast. If you've been to Waipio Valley, you've likely passed through Honokaa's bustling main street to get there. It's a great small town to explore, and well worth a stop on your next visit.
Who knows? You might even see Barr and family at T. Kaneshiro Store, Honokaa Stop N Shop or grabbing a dozen malasadas at Tex Drive-In.