Roseanne Barr's back on the tube as Hawaii macadamia nut farmer in reality show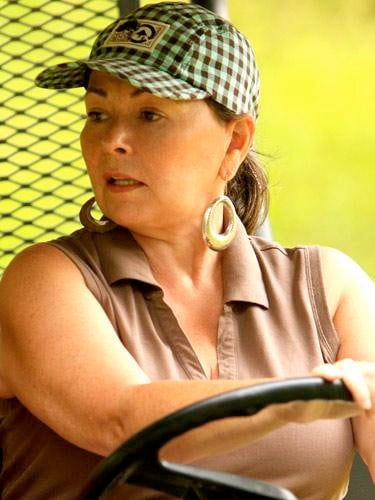 Roseanne's Nuts, a Lifetime network reality TV "docu-series" tracking Roseanne Barr's ongoing efforts to manage a 40-acre macadamia nut and livestock farm in the small town of Honokaa on the Big Island, will make its debut tomorrow.
According to a Lifetime press release, the show's 16 half-hour episodes offer a "funny, outrageous and unfiltered look at why Barr left behind the massive success and power afforded to her in order to transition into an adventurous new life that is a far, far cry from Los Angeles and the entertainment business."
The comedian and 1990s sitcom superstar purchased a working farm (near the island's picturesque Hamakua Coast) about four years ago, and has been living there full-time for the last year. Also residing on the farm are Barr's longtime boyfriend Johnny Argent and teen son, Buck. Barr's latest book (released in January), ROSEANNEARCHY: Dispatches from the Nut Farm, details farm life as well as what she's learned through religious studies, meditation and Kabbalah.
Fourteen years have passed since Roseanne (1988-1997) aired its last show (though television reruns are still easy to find while channel-surfing). If you need assurance that the self-proclaimed "domestic goddess" of standup comedy has not lost her raucous and sometimes sly sense of humor, check out the trailer at the bottom of this page. "Roseanne's Nuts" is set to air at 9 p.m. ET/PT with back-to-back episodes on Lifetime Television.
On Oahu, filming is now under way for season two of Hawaii Five-O, our favorite re-imagined police procedural drama. After a three-month break, the cast and crew of the CBS Television series started work yesterday with a traditional Hawaiian blessing.
Additions to this season's cast include Tom Sizemore (Saving Private Ryan) and Terry O'Quinn, who won an Emmy for his role as the enigmatic John Locke on ABC's Lost. Sizemore will play an internal affairs investigator. O'Quinn's character is as Navy Seal Lt. Commander who trained McGarrett (Alex O'Loughlin) and served with his father in Vietnam.
A special advance screening of the season two premiere is slated for Sept. 10 on Queen's Beach in Waikiki. O'Loughlin and the show's other primary cast members — Scott Caan, Grace Park, and Lost alum Daniel Dae Kim — are expected to attend the event, as are newcomers Sizemore and O'Quinn. The network premiere is slated for Sept. 19.