Safety concerns prompt Kauai landowner to restrict access to popular Kipu Falls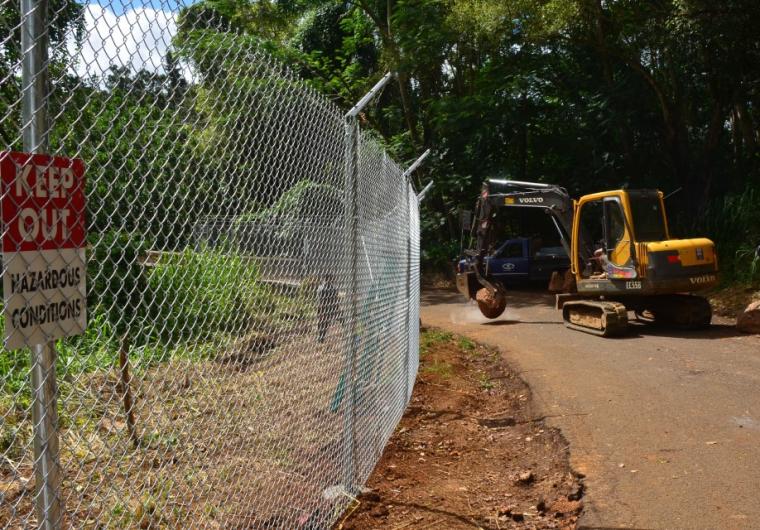 Citing public safety concerns, Grove Farm Company is installing fencing and rolling in boulders to discourage trespassing at Kipu Falls, a popular Kauai swimming hole.
Grove Farm, which owns the land edging the falls near Puhi in East Kauai, is also posting "private property "and "no trespassing signs" to inform area visitors that they may not cross the farm property to reach the falls.

The move to tightly close up the area through which visitors (trespassers, mostly) have accessed the falls for decades was prompted by lawsuits filed against Grove Farm, according to a press release issued by the landowner. In the past five years, five people have died at the falls. Most jumped from the top of the 20-foot waterfall into a pool below, then drowned while attempting to swim to back to land.
Over the last several years, as various visitor guidebooks began mentioning the falls as popular with area residents, visitor traffic along a private road near the falls has increased.
In a written statement, Warren H. Haruki, Grove Farm's president and CEO, said: "Many attempts to change guidebook language and to dissuade people unfamiliar with the area have not been heeded." Consequently, he added, "We have decided to restrict access to the site."
Dr. Monty Downs, a member of the Kauai Water Safety Task Force said: "I will be very saddened that yet another special area is to be taken away from local people who may enjoy spending time there." Downs, a medical doctor, said in a written statement that most visitors from the Mainland and elsewhere "don't have the background to recognize the dangers and the risks" tied to Kipu Falls.
Grove Farm Vice President Marissa Sandblom said installation of metal fencing (pictured, above) began yesterday. Boulders will be placed alongside the private road to deter parking along the shoulder. Vehicles that are parked illegally on the road will be towed at the owner's expense.
For additional information about Grove Farm, click here.