Sainthood ceremony for religious leader who cared for Hansen's Disease exiles in Hawaii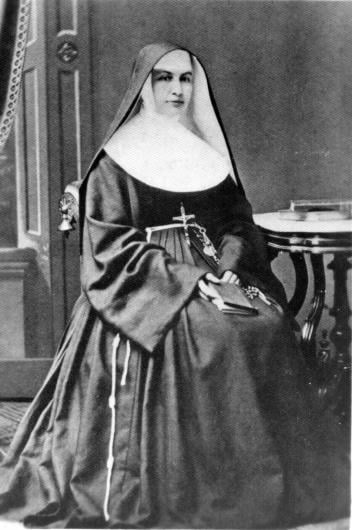 Blessed Marianne Cope, a member of the Roman Catholic Sisters of St. Francis who cared for Hansen's Disease (leprosy) patients on Oahu and Molokai for three decades beginning in the late 1880s, will be named as a saint during a ceremony set for this Sunday (Oct. 21) at the Vatican in Rome.
At the ceremony presided over by Pope Benedict XVI, the church will also canonize six other sainthood candidates, including Kateri Tekakwitha, a 17th century Mohawk Indian who spent most of her life in upstate New York.
About 250 Hawaii residents are in Rome for the ceremony, among them nine Hansen's Disease patients who reside at the former Molokai exile settlement at remote Kalaupapa Peninsula. Although cured, about a dozen people still live at the site, which is now part of Kakaupapa National Historical Park.
The Sisters of St. Francis of the Neumann Communities petitioned Pope Paul VI to open the cause for Mother Marianne's canonization in 1974. Nine years later, an official registration took place, which then led to the titles of venerable, blessed and, now, saint. Canonization is conferred when the Vatican attributes two cases of miracles to a candidate for sainthood. In 2004 and 2011, Vatican officials ruled that cases of inexplicable medical recovery were due to the intercession of Mother Marianne, who died 96 years ago.
Barbara Koob (now officially "Cope") was born on Jan. 23 1838 in West Germany. The next year, her family moved to the United States and settled in Utica, N.Y. At age 24, Barbara entered the Sisters of St Francis in Syracuse, N.Y., where she received the religious habit, the name "Sister Marianne" and began working as a teacher and principal in several elementary schools in New York state.
Quickly recognized as a deft administrator, Cope was tapped to help establish two general hospitals in New York state. Working alongside doctors, she picked up medical knowledge on everything from sanitation procedures to pharmacy skills, which she later put to use in Hawaii.
In 1883, when an emissary from Hawaii sent letters seeking capable leaders to provide health care for patients with Hansen's Disease, Mother Marianne was the only religious leader — out of 50 contacted — to respond positively. She reportedly wrote to the emissary: "I am not afraid of any disease, hence, it would be my greatest delight even to minister to the abandoned 'lepers.'"
During the decade preceding Mother Marianne's arrival in Hawaii with a group of sisters of the St. Francis order, thousands of Hansen's Disease patients throughout the Islands had been sent by government order to the Kalaupapa Peninsula. In 1873, Father Damien de Veuster moved to the island to live among the patients and minister to them. (Saint Damien was canonized in 2009.)
Mother Marianne first met Father Damien in January 1884, when he was in apparent good health. Two years later, in 1886, after he had been diagnosed with Hansen's Disease, Mother Marianne was reportedly the only religious leader to offer hospitality to the priest. (His illness made him an unwelcome visitor to church and government leaders in Honolulu.)
Several months before Father Damien's death in 1889, at age 49, Mother Marianne agreed to provide care for the patients at the Boys' Home at Kalawao that he had founded. Subsequently, Mother Marianne, along with two other nuns, ran the Bishop Home (for girls) and the Home for Boys at Kalawao.
Mother Marianne never returned to Syracuse, and neither she nor the nuns she worked with contracted Hansen's Disease. Mother Marianne died on Aug. 9, 1918 in Hawaii and was buried on the grounds of Bishop Home.
During Mother Marianne's lifetime, the chronic, contagious disease then known as leprosy was shrouded in fear and mystery, despite having afflicted humankind for millennia. About a decade after Cope died drugs were developed that could effectively cure the bacterium-caused disease. Left untreated, the disease, which weakens the immune system, can open the door for potentially deadly infections, such as pneumonia.
Mother Marianne's story, "Mother to Outcasts," is featured in the September/October 2012 issue of HAWAII Magazine.