Sam Choy opens new food truck at the Polynesian Cultural Center
The celeb chef's famous poke can now be found at Sam Choy & Tita's Seafood & Poke Truck on the North Shore of Oahu.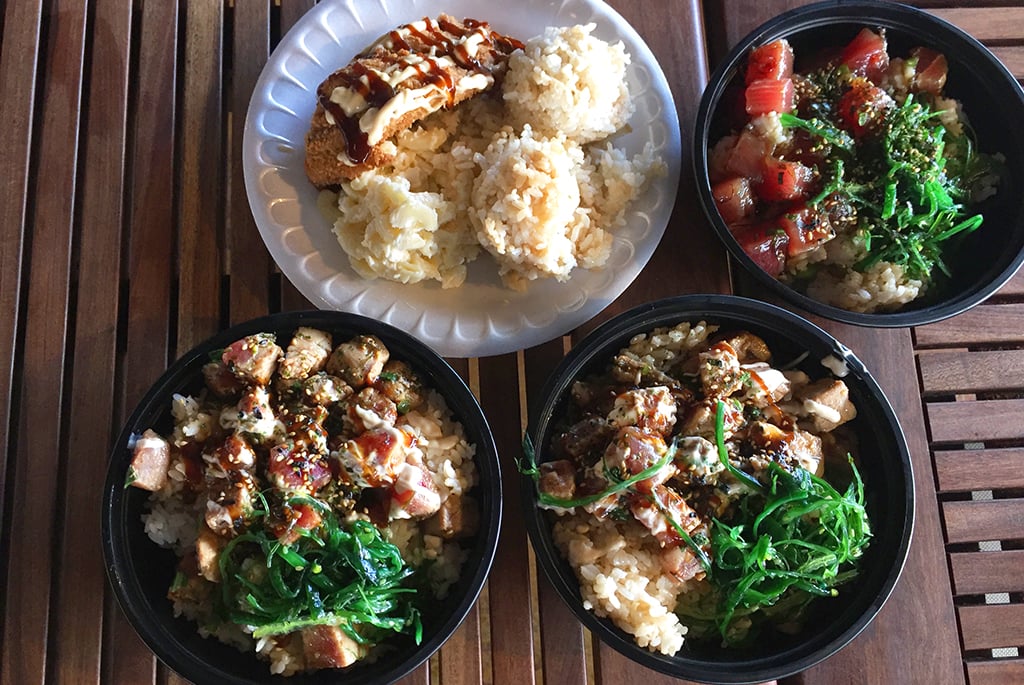 Few names stand out in the Hawaii's culinary scene like Sam Choy's. He's one of the founding members of Hawaii Regional Cuisine, a world-famous television personality, a James Beard Award-winner, a restaurateur and an author. Now, thanks to a collaboration with his childhood friend, Sam Choy also has his first seafood truck in Hawaii at the Polynesian Cultural Center's Hukilau Marketplace—and everyone gets to try his award winning poke.
Sam Choy & Tita's Seafood & Poke Truck opened in March 2017 during Hukilau Marketplace's second anniversary celebration, and was actually the brainchild of Choy's longtime friend, Polynesian Football Hall of Famer Junior Ah You, a former college and professional Canadian and American defensive end player. Ah You is the owner of Tita's Grill near Kahuku's shrimp trucks and also operates a Tita's Grill truck out of the Hukilau Marketplace.
"We were friends from small kid time," says Ah You. "I called him up and asked him what he thought of the idea to have a Chef Choy and Tita's Grill truck. He said he wouldn't be able to be there all the time, so we told him, 'We don't need you all the time, we just need the recipes.'"
Those recipes include Sam Choy's famous spicy poke, his uniquely tasty Asian poke, shoyu poke and fried poke. If you have non-poke-loving friends, the food truck also serves nachos, tuna melt sandwiches and other yummy fish plates.
"It's been such a great addition," says Hukilau Marketplace director Greg Maples. "You've got the tastes from Sam Choy's—he's so good at what he does—and Junior and his wife, Myra, taking that and bringing it to the people."
What many of his fans don't know is that Sam Choy grew up in the North Shore town of Laie, where the Polynesian Cultural Center is located, and played varsity football at Kahuku High School. He went through the Kapiolani Community College Culinary Arts program before working as a chef at The Waldorf-Astoria Hotel in New York City and starting his restaurant chain in Hawaii.
"He's all over the world but not in Laie, so we finally get to have him here," says Ah You. "I always thought there should be a place here for Sam Choy's name. It's his legacy from the place he was born and raised."
---
Sam Choy & Tita's Seafood & Poke Truck, Hukilau Marketplace ( Roulotte Court) at the Polynesian Cultural Center, 55-370 Kamehameha Hwy, Laie. Monday through Saturday
11 a.m. to 8:30 p.m. (800) 367-7060, facebook.com/Sam-Choy-Titas-Grill-Seafood-and-Poke.