"Samurai Summer" at Honolulu Museum of Art features traveling exhibition, film fest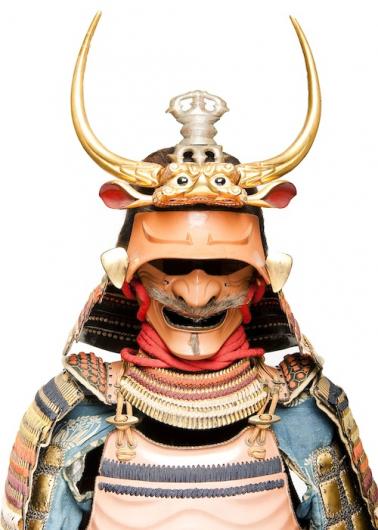 These days, we glimpse the influence of samurai art in popular culture, from the look of anime characters in comic books and video games to the design of Darth Vader's helmet in Star Wars movies.
The Honolulu Museum of Art's "Samurai Summer" offers an in-depth look at the artwork and lifestyle tied to warrior culture of samurai, who served nobility from the 12th through 19th centuries, most notably during the reign of the Tokugawa shoguns (1603–1868). Among the summer's highlights: one of the most comprehensive exhibitions on samurai ever created; a lecture about samurai armor given by the exhibition's curator; and a film festival that pays tribute to Hollywood's bygone Japanese film theaters.
• Lethal Beauty: Samurai Weapons and Armor, a traveling exhibit that showcases 63 works by 30 master craftsmen, features full suits of armor, dramatic helmets and warrior hats, fierce face masks, long and short swords, daggers, rifles, and more.
During peaceful times, higher-standing samurai engaged in artistic pursuits, such as adorning armor with exquisite designs and crafting helmets that conveyed the owner's sense of superhuman power. Samurai artists also memorialized battle scenes on canvases ranging from folding screens to sword fittings.
Integrated into the exhibit will be a selection of the Honolulu Museum of Art's Japanese woodblock prints, including work by Utagawa Kuniyoshi (1797-1862), who is remembered as an archetypal samurai artist.
Lethal Beauty will be on view at the museum starting next Thursday (Jun 6) and continuing until Aug. 18. For additional information about the exhibit, click here.
• Lethal Beauty's curator, Andreas Marks, will give a lecture titled Lethal Beauty: Design Elements in Samurai Suits of Armor, 1 p.m. on June 6. Marks, who serves as director and chief curator of the Clark Center for Japanese Art and Culture in Hanford, Calif., will focus on the design of suits of armor and will especially address helmet forms and often found elements like demonic Chinese lions.
• The Honolulu Museum of Art's Doris Duke Theatre will host The Sword and the Screen: A Summer Samurai Film Festival. Described as "part additional programming for Lethal Beauty, part tribute to Honolulu's bygone Japanese film theaters such as the Toyo Theater and the Nippon Theater, The Sword and the Screen offers a look at samurai life through seven Japanese classics directed by three masters of the genre—Akira Kurosawa, Masaki Kobayashi and Kihachi Okamoto.
For more information about the Honolulu Museum of Art's summertime offerings, click here.