Saturday morning at the Big Island's Waimea farmers markets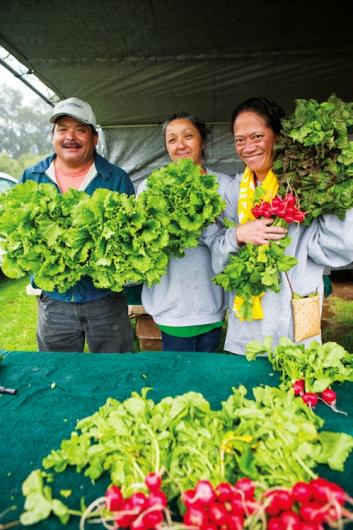 Marlene Bonk's warm, content eyes gazed into mine as I perused fresh produce, hand-picked from her farm in the bucolic Big Island ranching town of Waimea. My outstretched hands clutched a couple of Okinawan sweet potatoes the size of baby ears of corn.
"How much for these?" I asked.
Piecing together ingredients for a stir-fry, I had chosen the smallest of the bunch of purple potatoes from her Kozen Farms produce stand at the Waimea Homestead Farmers Market. A warm smile spread across Marlene's face like a gentle tide rolling to shore.
"Just take them," she said.
"Are you sure?" I asked, hesitating.
"You can come back and buy some bigger things next time," she teased.
Marlene's kindness and generosity on my first visit to the relaxed, friendly farmers market a few years back left a lasting impression. These days, my girlfriend, Melia, and I begin each Saturday in town with stops at Waimea Homestead Farmers Market and its younger, if equally down-home, sibling down the highway, the Waimea Town Market.

Planning a lengthy stay on the Big Island's South Kohala Coast and need edibles for home-cooked meals? Perhaps you're just passing through Waimea on an around-the-island Saturday road trip. Stop by these homegrown, homestyle country farmers markets and you'll leave with some of the best locally grown produce in the state, purchased directly from the farmers that raised them, likely right in Waimea. And go ahead and stop for a bit and talk story with growers, too.
Since 1992, nestled on a small parcel of land occupied by a state office complex straddling Big Island-circling Māmalahoa Highway, the Waimea Homestead Farmers Market attracts a weekly pilgrimage of visitors and locals drawn to its assortment of fruits, vegetables, flowers, plants, prepared goods and ready-to-eat foods, nearly all of it grown or produced in the Waimea area.
On most Saturday mornings, a fine mist of rain circulates through the warm sunlight and cool morning air of the market—a natural gift of sorts from neighboring grassy hills and the lush, cloud-forested Kohala Mountains in the near distance. Waimea's consistently cool temperatures, morning sunshine, and light afternoon and evening rains create a microenvironment marked by rich soil responsible for much of the produce sold by area farmers to chefs at Hawai'i's ever-growing number of farm-to-table eateries and directly to customers at both Waimea farmers markets. The list of produce at both markets regularly includes heirloom tomatoes, sweet carrots, crisp bell peppers, buttery lettuce and more.

Vendor tents at the Waimea Homestead Market are placed with ample space between them on the lawn, allowing wide lanes that encourage customers to easily visit each and linger. Even on the most crowded days, the market grounds remain easy to maneuver and its environs comfortably laid back, with booths proffering everything from local-style plate lunches, warm Leige waffles and made-to-order crepes to Big Island coffees, preserves made from Island-grown fruit and, pickled vegetables and, when in season, fresh mango.
After sampling and purchasing some guava-smoked goat cheese from Honoka'a town's Hawai'i Island Goat Dairy on a recent market Saturday, I made my usual beeline to Mauna Kea Tea's booth for a steaming cup of green tea. The deep, complex flavors of the organic tea, grown a few miles south of Waimea on the uplands of the Hāmākua Coast, blended perfectly with the refreshing 62-degree morning temperature.
My reusable bags soon stuffed with dinosaur kale, mustard greens, multicolored bananas and spinach purchases, I was ready to complete my Waimea farmers market circuit.
The grounds of Parker School, a few miles west of the Waimea Homestead Farmers Market but also just off Māmalahoa Highway, is home to the Waimea Town Market. A circle of vendor tents surrounds the movement of people congregating here, much like electrons circumnavigating a nucleus. It's difficult to keep one's hunger in check while passing picnic tables full of patrons munching on fresh-baked bread, croissants, fragrant pumpkin curries, coconut popsicles, soufflés, tamales and homemade macadamia-nut pies. On my visit, even tail-wagging, bandana-clad pooches were sated by dog treats from Kalakoa Kookies, crafted with locally grown produce such as pineapple and lilikoi.
The Waimea Town Market launched in 2008 with seven vendors as a fundraiser for Parker School. Like the older Waimea Homestead Farmers Market, it has grown to host up to 30 vendor booths each week.
"The Waimea Town Market was started with the hopes of Waimea becoming the market capital of Hawai'i, and to make a market habit of Saturdays," says Paul Johnston, owner of Kekela Farms. Johnston's family-run Waimea farm annually sells more than 120 different varieties of its fruits and vegetables at its Town Market stand.
Johnston's words remind me that at least one of the Town Market's founding goals definitely rings true for me.
As Melia and I continue to source the majority of our weekly provisions from Big Island farmers and producers, visiting the Waimea Saturday farmers markets is now our Saturday habit.