Scenes from Santa's annual Christmas Eve canoe arrival and visit in balmy Waikiki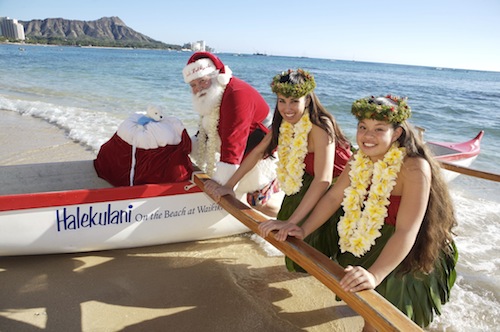 Gene DiCicco usually stops trimming his beard in June or July. About six months later, his white whiskers are the right length for his annual Christmas Eve arrival at Gray's Beach, edging Waikiki's Halekulani resort.
DiCicco, who has happily played the role of Santa at Halekulani for 11 consecutive years, is wrapping up his holiday stay on Oahu today. The Kona resident plans to return for 2013's Christmas celebration.
HAWAII Magazine recently chatted with DiCicco about his yearly weeklong switch from Big Island boutique coffee farm proprietor (250 trees yielding about 500 pounds of java a year) to Father Christmas. He relayed the following yuletide account.
Shortly before last week's beach appearance — slated for 4:30 p.m. on Dec. 24 — DiCicco touched up a few gray streaks in his beard with a snowy-white coloring and buckled himself into the storied red coat. Then, launching from a neighboring hotel area, DiCicco and a few holiday helpers hopped into an outrigger and paddled about a half mile off of Waikiki's shore. Upon receiving a signal, they stroked their way back in, landing just east of Halekulani's grounds (pictured, above).

Estimating the annual beachside crowds at up to 1,000 people, DiCicco says, "A lot of times, "you don't see sand — just people" gathering at the shore and lined up on a walkway. The beach event also features a children's singing group, musicians and hula performers.
The agile 70-year-old notes that he has yet to stumble while moving from water to sand, in part, because he decks out in a "wild pair of shorts" (pictured, left) rather than red pants. Also, instead of black boots, the island-style Santa goes barefoot.
After making his way through the crowd, DiCicco says he always heads to the resort's ballroom, where children spending Christmas at Halekulani get together for a party. "The little kids truly believe that I'm Santa Claus," he says. Over the years, "I've seen small kids grow to teens, and I've seen some guests year after year. It's become quite a nice thing."
The annual St. Nick role officially usually ends on Christmas morning, following a caroling stroll through the resort's corridors with housekeeping staff. But DiCicco, who has visited at the resort with his family many times over a span of nearly three decades, says regardless of his attire he's now known around Halekulani as Santa — even in July.

When asked what's most challenging about suiting up as a North Pole elf in tropics, DiCicco chuckles lightly and says: "By late November and into December, the length of my beard starts driving me nuts. I can't wait to get it shaved off."
And every year on Christmas Day, he does just that.
During the early afternoon, "I'm at the barbershop and my beard's being trimmed." This year was no exception (pictured, right). "I love it because now when I look in the mirror in the morning I see a younger guy."
For more information about Halekulani on the Beach at Waikiki, click here. And for details about DiCicco's coffee operation, DiCicco Terrace Kona Coffee, click here.