Scenes from the 30th anniversary of west Maui's Kapalua Wine & Food Festival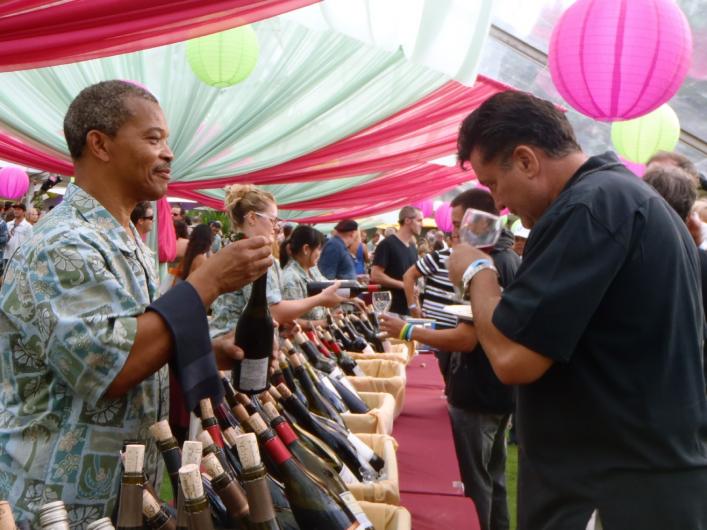 It's nearly impossible to not relax when you're standing on the west Maui coastline, where you don't need a sweater — even on evenings when gentle breezes give way to strong, gusty winds. Where the water shimmers in several shades of calming blue under sunny skies on Kapalua Bay.
This is the postcard-perfect scene I strolled into on Thursday afternoon. Touching down on tiny Kapalua Airport's single runway, after a long stretch of busy days on Oahu, I quickly loosened up my stiff neck and shoulders. Still, twinges of stress lingered on.
Lucky for me, I was headed to the 30th annual Kapalua Wine & Food Festival at Maui's Ritz-Carlton Kapalua Resort (pictured, below), where even the concept of stress is soon forgotten — well, at least for the duration of this dream weekend for your inner epicure.
The four-day event, Thurs., June 9 to Sun., June 12, dubbed A Toast to 30, showcased Hawaii regional cuisine. At Friday evening's Grand Tasting — A Maui-Grown Gala, local farmers teamed up with top Hawaii chefs to serve ono pupus (delicious appetizers), ranging from mahi mahi ceviche tostadas to bites of seafood sausage drizzled with Béarnaise sauce. Oh, and more than 200 wines from around the world were poured for festivalgoers, most of whom appeared to be completely de-stressed by sunset.
Interactive wine seminars, offering a chance to taste and compare exceptional wines alongside top winemakers and master sommeliers, were held throughout the weekend. My favorite was Saturday morning's Pinots Meet Cheese, presented by cheese master Kent Torry of the Cheese Shop in Carmel, Calif. Each participant sat down to slices of gourmet cheeses and seven glasses of wine. Between sips and nibbles, Torry and wine experts shared stories about the hard-to-find offerings and approving opinions about the pairings. (They clearly enjoyed every possible wine-cheese combination.)
Among the festival's foodies and wine connoisseurs, I undoubtedly ranked as a novice epicure. (While I will gladly drink fine wine and tuck into inspired culinary creations when opportunity presents, most of my meals are quick-fixes. And while working, I often get by on coffee and pastry or, ahem, a handful of M&Ms.)
Here are a few things I learned at the wine-cheese seminar: Dutch Gouda should be pronounced "How-Duh," according to Torry, who quipped, "'Just remember: How-Duh is gooda-tasting." Also, Pinot noir is a "sexy wine" — light- to medium-body — that can vary in taste from robust when youthful to silky when mature. And, judging by the happy seminar participants, I'm fairly confident that serving Pinot noir with fancy cheeses is a sure-bet to pleasing just about any party guest with a sophisticated palate.
At the festival's midway point, after taking part in two or three wine seminars, I decided to take a break to burn off a few calories. First, I laced up my running shoes and went for a light run around the Kapalua Resort's lush heritage trail, Ala Hele Kapaula.
Much of the trail is lined with towering Cook Pine trees, topping out at about 200 feet. According to a historical marker, Captain Cook picked up the pine in New Caledonia and brought it to Hawaii. By 1920, an estimated 13,000 Cook Pine trees had been planted in this area to help maintain forest cover and preserve water resources.
I wrapped up my run along the Kapalua Coastal Trail, (pictured, above) which edges the shoreline for nearly 2 miles and cuts through west Maui's largest known nesting area for the federally protected Hawaiian wedge-tailed shearwater. The resort is cultivating native plants in the area to serve as groundcover for the burrowing seabirds as they're are vulnerable to predators such as mongooses and dogs.
At lunchtime on Sunday, I headed over to one of the festival's most anticipated cooking demonstration: Farm Fresh with Chef Peter Merriman. It featured the festival chef — owner of Merriman's Restaurant, with locations on Maui (pictured, below) and the Big Island, and the Monkeypod Kitchen (Maui) — preparing regional cuisine. Among other items on menu were Maui Cattle Co. filet of beef (pictured, above) and old-school Hawaiian chocolate cream pie. Wine pairings were sampled and discussed throughout the lunch session, of course.
More than 90 percent of the fare served at Merriman's restaurants comes from local farms and growers. But that hasn't always been the case. Unable to find even fresh basil when he moved to the Islands in the 1980s, Merriman has steadily pursued relationships with farmers and others in an effort to develop a thriving local agriculture scene.
Decades ago, Merriman said, "Almost everything was shipped here, but we knew that fresh was better." Thanks to Maui's year-round T-shirt weather and careful farming, he said, "We have some of the best produce in the world."

During the cooking session, Jay Fletcher, who serves as the chairman of the Court of Master Sommeliers American Chapter's Board of Directors, reminded diners to attend the weekend's grand finale, Sunday evening's Maui Seafood Festival. Then, after praising the quality of the overall event's food, wine, chefs, seminar panelists, and even the tropical foliage, beaches and surf, Fletcher said: "I love this festival. It's the greatest wine festival in the world, hands-down."
Merriman followed up by dispelling rumors that A Toast to 30 would be the final Kapalua Food & Wine Festival. Planning for next year's event, he said, gets under way today. For more information about the festival and the Kapalua Resort, click here.