See Kauai's Huleia River on a stand-up paddle board tour
Winding past the Haupu mountain range, Kauai's 238-acre Huleia National Wildlife Refuge is home to endangered birds and native plants.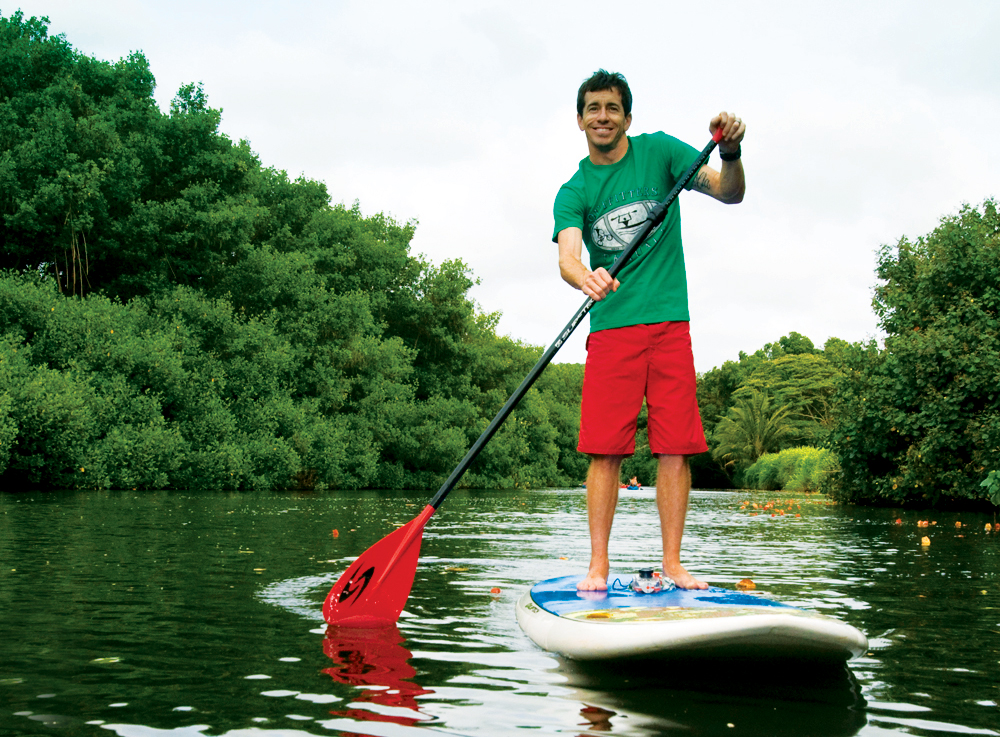 It's about five minutes past 9 a.m. and I think I'm late.
I imagine a shirtless and tanned tour guide from Outfitters Kauai waiting impatiently for me at Nawiliwili Harbor, the starting point of my day of stand-up paddle boarding along Huleia River. Darting toward the harbor, which is nestled against Lihue on the island's southeast side, I nearly pass a little green house. Outfitters Kauai—exactly where I need to be.
Turns out, I'm not late at all. "Kauai time," one of the guides says, chuckling. "No worries."
Stand-up paddle boarding, a water sport that has gained world popularity in recent years, is really a throwback to one of the ways Waikiki's famed, and ever ocean-savvy, beach boys once took to the surf—standing on thick surfboards and using longer-than-normal canoe paddles to propel and steer. It's also a sport almost anyone who is interested can easily take up—from shoreline-exploring amateurs to competitive paddlers taking on the treacherous Kaiwi Channel separating Molokai and Oahu.
The stand-up paddle-board tour I'm taking will meander up the calm waters of the Huleia River and through the 238-acre Huleia National Wildlife Refuge, promising some of the island's most impressive natural scenery along the way. After a quick briefing on the river, the refuge and proper paddling technique, we're on our boards and on our way up the Huleia. The lush, craggy Haupu mountain range looms, it seems, just yards away.
Having grown up on Oahu surf, I took to stand-up paddling pretty quickly. But even first-timers can master the sport in Huleia's tranquil waters. The trick is really about finding your balance on the board—an easy task on these floating sidewalks. Long strokes with your paddle propel you forward; pulling backward on the paddle brings you to a stop.
Our guide, a Kauai native, tells stories of the now mangrove-lined Huleia River—how it used to be deeper, wider and full of delicious Samoan crabs—and the legend of the Haupu mountains, named after a nervous giant tasked with guarding the island from ocean invaders. These tales of the island and its culture—which include the mythical Meneuhune believed to have built nearby Alekoko Fishpond in just one night—are a welcome element on the two-mile paddle. Another draw is navigating through Huleia, which, since 1973, has been a protected wildlife refuge otherwise closed to the public.
Once used for cultivating taro and rice, Huleia's vast wetland acreage is now a nesting and feeding habitat for endangered Hawaiian birds, including the endangered aeo (Hawaiian stilt), alae keokeo (Hawaiian coot) and nene (Hawaiian goose). Mullet, barracuda and, occasionally, stray Hawaiian green sea turtles wander into the river's brackish sections, which are lined with hau, a bushy plant commonly used in making ropes and ama (outrigger floats). The river is also a popular destination for kayaking tours.
We dock our boards after two miles of paddling and hike along the river, then through a muddy forest valley dotted with noni (Indian mulberry), Chinese coffee trees, bamboo groves and ornamental ginger. About two miles into the valley, we stop at a platform built over a swimming hole created by an old lava tube. Munching on turkey wraps and pasta salad, we watch folks from another tour hang from a mini zipline over the swimming hole—called Blue Pool—before plunging into the murky water.
"Is it cold, the water?" I ask our guide.
He smiles. "Only when you hit it."
A half hour later—enough time to catch our breath, eat and take a few dips in the pool—we head back to the landing where an Outfitters Kauai boat waits to take us back down the Huleia to our Nawiliwili Harbor starting point. Sadly, no more stand-up paddling.
Still, after a day spent exploring Huleia largely from the surface of a floating board, I couldn't think of a better, or more relaxed way, to experience one of Kauai's most beautiful and untrammeled pockets of nature.
Outfitters Kauai
Nawiliwili Small Boat Harbor, 2494 Niumalu Rd., Lihue, (808) 742-9667, outfitterskauai.com.