Shop for Curated Hawaiʻi Products at This Unique Event—or From Your Home
Listen to new entrepreneurs pitch their products at Honolulu-based Mana Up Hawaiʻi's annual showcase—then buy them online or in person.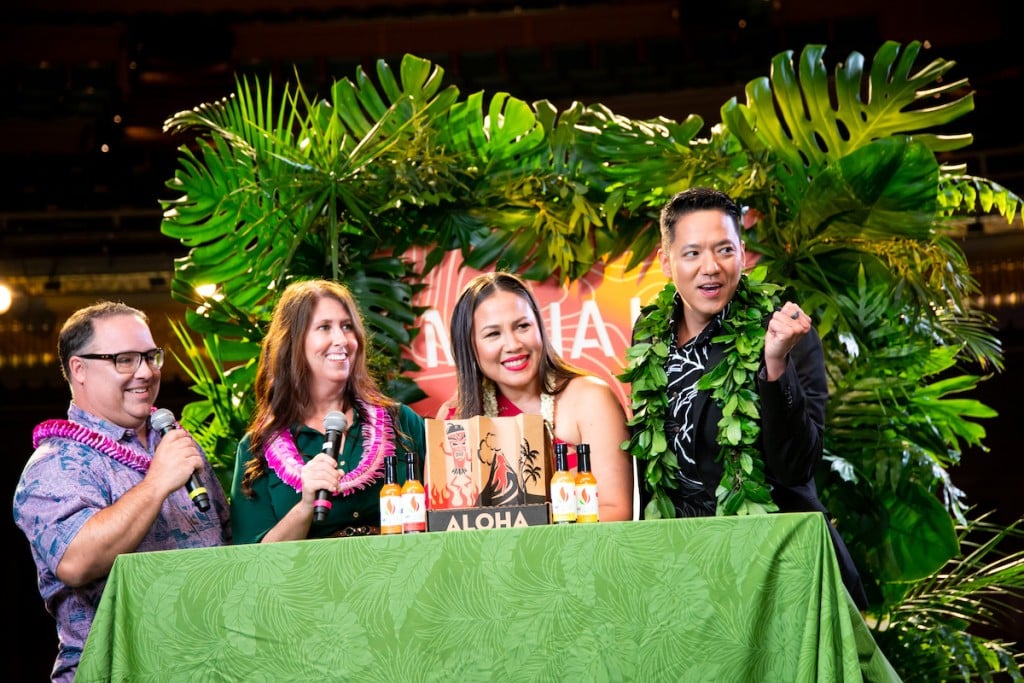 Each year Honolulu-based Mana Up Hawaiʻi hosts a 12-week accelerator program for Hawaiʻi entrepreneurs, helping them bring their products to market. The program culminates with a Product Showcase event, where participants present a 3-minute pitch to a live audience. The 90-minute show will be live-streamed on Facebook and YouTube on Thursday.
For the first time since 2019, the event will have an in-person marketplace—on Nov. 3 at Bloomingdale's at Ala Moana Center—where you can shop the unique products of more than 40 Hawaiʻi entrepreneurs.
And just in time for the holidays!
"This year we are pairing a live audience with the live-streamed event, which is going to make the event full of energy and excitement," says says co-founder Meli James, who will co-host the event with local comedian Tumua Tunei. "It will be an entertaining show for anyone who wants to be inspired by Hawaiʻi's creatives."
Here's how it works:
There will be 11 entrepreneurs—a family-run candy maker from Kauaʻi, a Native Hawaiian-owned puzzle company, a Maui-based traditional lei maker, a modern baby lifestyle company run by a new mom—all from Hawaiʻi and creating high-quality goods you won't find anywhere else. You can watch them share their stories and hear about their products. In between "pitches," you'll listen to six up-and-coming Hawaiʻi singer-songwriters. The event will also feature a live performance by Paula Fuga, one of the Islands' top musicians.
You can watch this via livestream starting at 2:30 p.m. HST on Thursday, Nov. 3 on Mana Up Hawaiʻi's Facebook page and its YouTube channel. The main show—which features entrepreneur pitches—starts at 3 p.m. HST. Register for the livestream event here.
For those attending the event in person at Bloomingdale's, you can purchase tickets here. Cost is $125 per person and includes access to a marketplace with dozens of Hawaiʻi entrepreneurs, a Kō Hana rum cocktail bar, food and live music.
Both livestream viewers and event attendees will have access to limited-edition products, major discounts and giveaways including a year's supply of King's Hawaiian sweet bread, two round-trip tickets to Hawaiʻi from Hawaiian Airlines and more. (King's Hawaiian, which was founded in Hilo in the 1950s, is the presenting sponsor of this event.)
And here's the best part: As you're watching the show, you can immediately go to Mana Up's e-commerce site to buy the products you're learning about.
"People can expect a really great time—essentially a virtual party all in celebration of our community of entrepreneurs and up-and-coming musicians," James says. "We celebrate with giveaways and our best deals of the year, from discounts to new, exclusive products. Plus, viewers will get to do all of their holiday shopping early. When you combine local entertainment, giveaways and live shopping, you know it'll be an awesome time."
Learn more at houseofmanaup.com/showcase.