Shop with Aloha: Mānele Spice Co.
Chef Adam Tabura, cookbook author and winner of Food Network's "Great Food Truck Race," has a new line of spices that's sure to add some Hawaiʻi flavor to any dish or barbecue.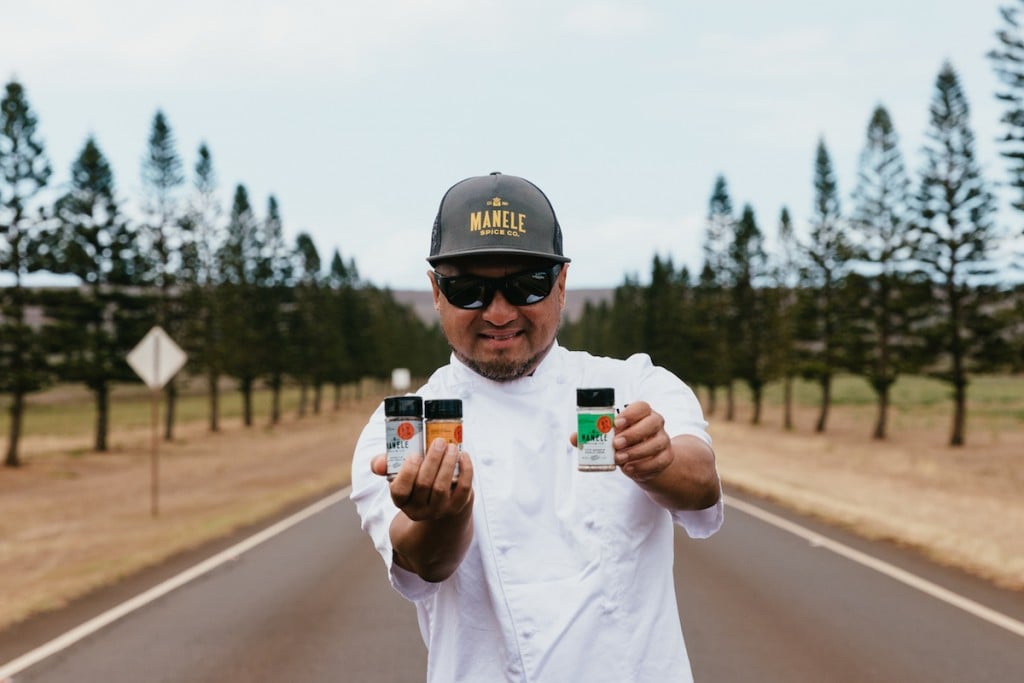 In the world of Hawaiian spices and seasonings, Mānele Spice Co.—the brainchild of renowned chef Adam Tabura—is finding its footing in all the right places. Tabura's spices are on shelves at Foodland Farms, and his flavorings—like the Backyard Imu Smoke Salt and Tūtū Mama's Garlic Herb Blend—have already become staple ingredients for backyard barbecuers and chefs around the Islands. However, what it took for the local boy from Lānaʻi and his spices to become the success that they are is nothing short of amazing—or rather, a series of amazing moments combined with a lot of hard work.
"I was 17 years old, four days after my graduation from high school and I was hanging out at Mānele Bay with friends just trying to figure out what we were going to do," says Tabura, who's since gone on to become a Food Network winner, cookbook author and internationally acclaimed celebrity chef. "And on that day I ended up saving a man's life from drowning." Not long after that fateful encounter, the man got into contact with Tabura by finding his mother's phone number, which Tabura says "hasn't changed in 40 years." After talking to Tabura about what he wanted to do in life, the stranger ended up paying for Tabura's education at the Le Cordon Bleu College of Culinary Arts, formerly the Western Culinary Institute, in Portland, Oregon. "He had reached out to me in July, and by August I was out of the house with just a bag, a box, a radio and a one-way ticket to Portland," says Tabura.
But the hits don't stop there. Six days before his graduation from culinary school, Tabura's house caught fire during a graduation party thrown for him by his friends. While rescuing 11 of his friends—according to the fire marshal on duty—Tabura suffered severe burns on his hands and face. Fortunately, with the help and guidance of a Hawaiian healer, Tabura went back to culinary school to receive his diploma.
Fast forward 20 years and Tabura is a chef who has held executive culinary positions at Ruth's Chris Steak House, The Westin Maui and Four Seasons Resort Hualālai. After winning the Food Network's national "Great Food Truck Race" in 2013 with his food truck, Aloha Plate, Tabura decided to challenge himself once more by starting a new company, Mānele Spice Co. "We've launched at Foodland, I have another five spices coming out by the end of the year and I've got a bunch coming down the pipe," he says.
The idea for Hawaiian-style spices grew from Tabura's need for a larger variety of spices in Hawaiʻi. "When I went to culinary school, we didn't have any spices in Hawaiʻi," says Tabura. "We had chile pepper, we had ʻinamona, we had ogo, and those aren't even considered spices." To remedy this, Tabura mixed his culinary lifestyle with his history growing up in Hawaiʻi to create five unique spices and blends; Everyday Mānele Bay Blend, Backyard Imu Smoke Salt, Tūtū Mama's Garlic Herb Blend, Upcountry Style Chile Pepper and Hawaiʻi's Hoʻokupu Salt Blend. These spices, which are all sourced locally, can be used for barbecuing or all-purpose cooking.
Unfortunately, the effects of COVID-19 spare nobody, and Mānele Spice Co. is no exception. "The hardest part for us, right now, is how everything is still so unknown," says Tabura, whose company relies heavily on wholesale clientele. "Mānele Spice Co. is brand-new and one of the biggest challenges for me is that I'm in the food business and, if you look around you, everyone is closed or just doing takeout." The timing of COVID-19 also has significantly hurt Tabura's business, which was looking to attack the market during the summer months, with their barbecue heavy holidays such as Memorial Day, Father's Day and the Fourth of July. "But I'm happy I'm not a big company," says Tabura, "because those big companies are losing way bigger margins than people like us. But we're all sitting in the same pond, and until the consumer and buyer comes back out, we're all going to struggle."
Fortunately, Tabura doesn't give up easily. Those looking to spice up their dishes or upcoming barbecues can still find his products at Foodland Farms locations, and Mānele Spice Co.'s online store is still up and running. "I want to share Mānele Bay, and Hawaiʻi's flavors, one bite at a time," says Tabura, "and the way I'm going to do it is through my food and through my spices."
To buy Mānele Spice Co. spices, visit its website or find its products in one of the gift sets offered by House of Mana Up here. Ir you're on Oʻahu, Maui or Hawaiʻi Island, any Foodland Farms location. You can also follow the company on Instagram @manelespice or chef Adam Tabura @chefatabura.