Shrimp trucks at Hawaii's Seafood Festival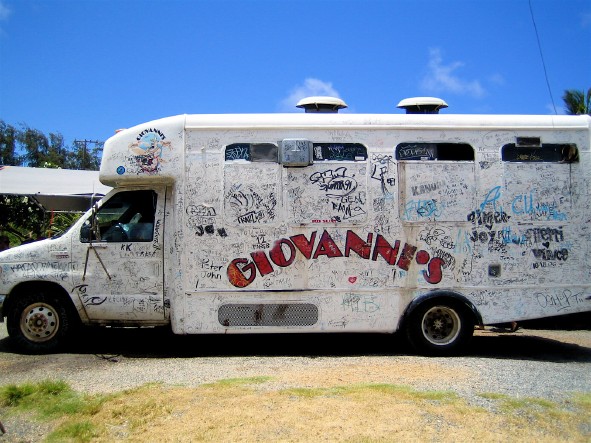 The fourth annual Seafood Festival kicks off this Friday (10/10) with the "Taste of the North Shore Shrimp Trucks" at the Turtle Bay Resort.
Oahu's North Shore is famous for its shrimp trucks, but they are usually spaced out over several miles of highway. Here, you'll get to sample eight garlic shrimp plates from eight different shrimp trucks, including Giovanni's, all in one location. There's beer from Sam Choy's Big Aloha Brewery and side dishes and barbecue skewers from Turtle Bay Resort.
Besides shrimp, the two-day festival also includes Sam Choy's poke contest (open to both amateur and professional chefs), silent auctions and musical performances by Kapena and Kaala Boys.
If fine dining is more your style, check out "Chef's Seafood Under the Stars" on Saturday night, featuring chefs such as Sam Choy, Hector Morales, D.K. Kodama and Fred DeAngelo. Fred created the recipes for HAWAII Magazine's Modern Luau Guide. Special tasting of fine wines is also included. For tickets, call (808) 293-6000.
In Honolulu? On Sunday (10/12) from 9 a.m. to 4 p.m., the Pacific Islands Fisheries Group will host its Hawaii Fishing and Seafood Festival at Pier 38, home of the new Honolulu fishing village. Call (808) 265-4962 for more info.
'Tis the weekend to celebrate seafood!