Sip, Slurp and Sample Exotic Wines at Volcano Winery
For $10, you can try eight unique wines, all grown on the high-altitude slopes of Mauna Loa.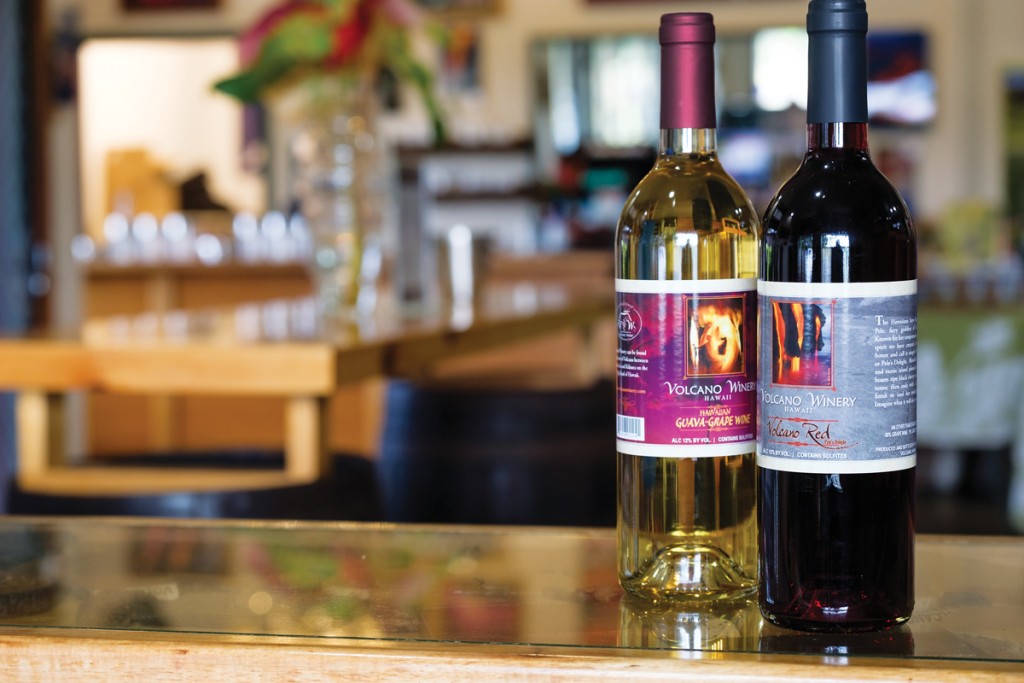 High up in the hills of Volcano Village, which is already relatively high up in the hills of Mauna Loa, one of Hawaii Island's major volcanoes, sits Volcano Winery. Growing grapes in the brisk air and high-altitude climate of Volcano, this boutique winery was started in 1983 by a retired Oahu veterinarian, Lynn "Doc" McKinney. Now, 36 years later, Volcano Winery offers a wide range of premium wines. And if you want to get a good idea of what Volcano Winery has going on, wet your tongue on a smattering of its wines, meads and tea infusions for $10.
It's inside the winery's quaint tasting room where guests can enjoy a carefully selected sampling of the business's alcohol-infused products. Here, rustic charm meets Hawaiiana decor, and wooden stools and tables are paired with walls adorned by beautiful Hawaii-inspired artwork and photography, all available for purchase. The winery's shop also sells wine accessories, such as handy rubber wine corks, a teeny-tiny tote for your rubber cork and cigars imported from Kauai Cigar Co.
Although the cigars can cost a pretty penny, the $10 standard wine sampling is a great deal. A vintage sampling course is also available for $20, and includes estate and limited edition wines. Each guest will be seated with a clean wine glass, and an informative Volcano Winery employee will walk you through each of the eight wines that will be lightly poured in your cup. Although it's not a lot of wine, a generous sip at best, all in all, tasters will receive just over a glass of wine.
It's not just wine, however. The tasting may start with the usual suspects, like the Symphony Dry, a sharp white wine that leaves hints of peach, apricot and lychee on the tongue; its classic pinot noir, which boasts flavors of plum and black currant; and the Volcano Blush, a light-bodied pink wine that blends jaboticaba berries and white grapes into a nectar that is almost too easy to drink, however, things start to get a little weirder, and a lot sweeter, in the tasting's tail end.
If the Hawaiian Guava-Grape doesn't awaken your taste buds, nothing will. This complex white wine is sweet—but not too sweet—and utilizes refreshing notes of locally sourced guava. Next on the tasting's menu, the Macadamia Nut Honey, is as syrupy as it sounds, is technically a mead and is made with pure macadamia nut honey. Finally, saving the most unique vint for last, is Volcano Winery's Infusion, a mixture of macadamia nut honey and the estate's own black tea. The blend produces a crisp tasting beverage with sweet and herbal tasting tones.
If, at any point in this tasting adventure, you find the wine, you can grab a bottle or two–maybe three–from the receptionist behind the counter. If you're a visitor or live on another island, you'll be happy to know that Volcano Winery will ship bottles of wine, up to a case (12 bottles), to the Mainland, Neighbor Islands and Alaska. And if you're feeling a little rosy after all those sips, the winery's outdoor seating area is a great place to get some fresh mountain air before heading back down the slopes of Volcano.
35 Pii Mauna Drive, Volcano, Hawaii Island, (808) 967-7772, volcanowinery.com. Tastings can be scheduled during the winery's hours of operation, from 10 a.m. to 5:30 p.m daily.