Sky Waikiki nightclub and lounge is a new reason to stay out late in Waikiki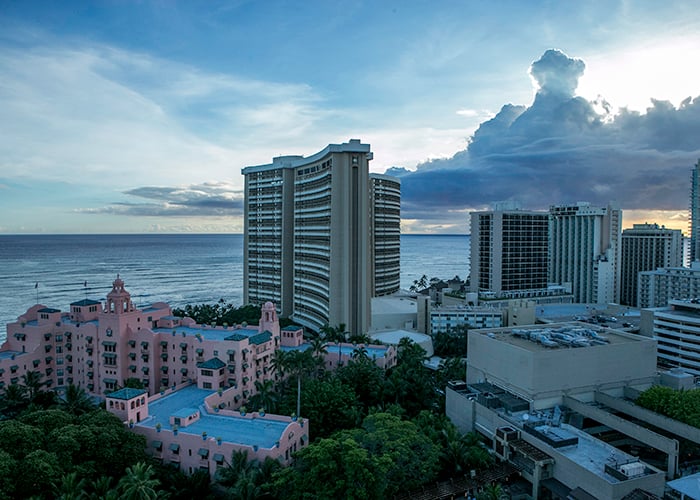 Across the street from the Royal Hawaiian Shopping Center and near the popular H&M clothing store in Waikiki, tilt your head back and look straight up. No doubt you're familiar with the iconic revolving restaurant perched 21 stories above (the one that looks like a flying saucer), but, just below that, you'll notice something new. Jutting out from the building is where you'll see the recently opened Sky Waikiki nightclub and lounge—owned and operated by the same people who manage Top of Waikiki.
What makes Sky Waikiki particularly exciting is that it is a 19th floor rooftop, open-air club and lounge, and it's unlike anything Hawaii has seen in the past. On the deck, you'll have an almost-360 degree view of Waikiki, including views of the ocean, Diamond Head, Waikiki Beach and the famous, pink Royal Hawaiian hotel. Buildings block the sunset, but you'll forget about that once the sun goes down and the city's twinkling lights turn on around you while breathing the fresh air.
Waikiki needed this. Yes, there's Duke's Waikiki at the Outrigger and RumFire at the Sheraton, but Kalakaua Avenue has been lacking what it had many years ago (even compared to what the '60s had in Don Ho's heyday): multiple nighttime venues to choose from with various forms of entertainment. In the past decade, many of Waikiki's popular nightclubs and bars have closed permanently, such as Level 4, Senor Frogs, Zanzabar, Shack Waikiki and Lotus Soundbar. So late-night revelers have turned to other Honolulu towns for nightlife, especially residents who used to "cruise Waikiki" on a regular basis.
Is Sky Waikiki the remedy? Maybe, or maybe not, but they did everything right. The ambiance created could rival some bars in New York and LA. It has a chic interior and exterior design with beautiful lighting and pops of color, like its stained glass wall behind the bar, a 30-foot video wall, three bars, wraparound deck and a fire pit. And, while some would say the nightclub is small, I call it smartly planned, because the intimate space, which opens to the outside, will prove to be inviting regardless of how busy it is or isn't.
The grand opening was over-the-top with celebrity arrivals, including Brody Jenner and Cheryl Burke, and skydivers flying past us and landing on a building nearby—something you never see in Waikiki. But, amongst the crowd of A-listers, I found a brighter star in executive pastry chef Heather Bryan, who produced moist and delicious mini-cakes, tasty cream puffs and a devilishly-sweet French toast dessert. Look for these on the menu, along with my favorite drink of the night, the Iolani Cooler, made with hibiscus-infused cucumber vodka, lime juice, mint and orange bitters.
While you're planning your itineraries to Hawaii, include an evening out at Sky Waikiki for after-dinner drinks, a gathering among friends or for a special occasion. A night out at this rooftop location high above Waikiki is certain to be a night you won't forget.
Sunset hours are Sundays through Thursdays, 4 p.m. to midnight, with a dress code of resort casual attire. Nightlife hours are Fridays and Saturdays, 9 p.m. to 2 a.m., with a dress code of collared shirts, dress shoes, fashionable attire and heels. Waikiki Business Plaza, 2270 Kalakaua Ave., Honolulu, skywaikiki.com.