Slack-key guitar legend Raymond Kane dies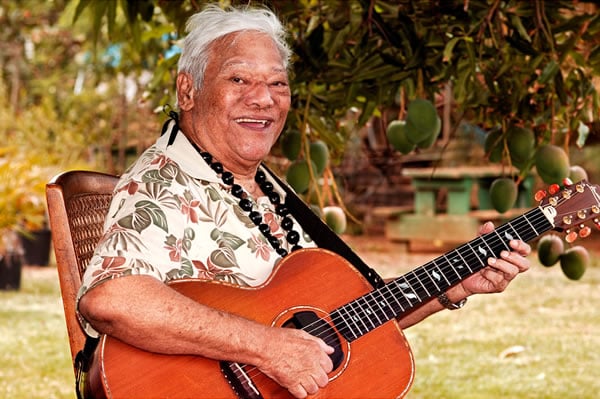 The art of slack-key guitar has lost one of its greats.
Raymond Kane died yesterday in Honolulu. He was 82.
Long a renowned performer and teacher of the open-tuning Hawaiian guitar style, Kane was one of the first artists signed to George Winston's Dancing Cat record label in 1994.
Like his cousin Aunty Genoa Keawe—who passed away on Monday— Kane was honored by his peers in the Hawaii music industry with a Na Hoku Hanohano Lifetime Achievement Award. In 1987, he received a National Endowment for the Arts Folk Heritage Fellowship, one of the most prestigious honors for folk artists.
Kane seemed to get a particular kick out of introducing slack key to an audience of newcomers. One of the best memories of my years attending the University of Hawaii-Manoa was Kane's visit to my Music in Modern America class one morning in 1993. Guitar at his side, the slyly humorous, always-grinning Kane shared stories of his life, his deep knowledge of the art form and, best of all, his sweet nahenahe (that's relaxing in Hawaiian) ki hoalu skills with our tiny class.
For that hour, there was no cooler place in the world to be.
Rest in peace, Uncle Ray. We'll miss you down here.