SLIDESHOW: "Heavenly Hanalei," Kauai's charming north shore surf-and-beach town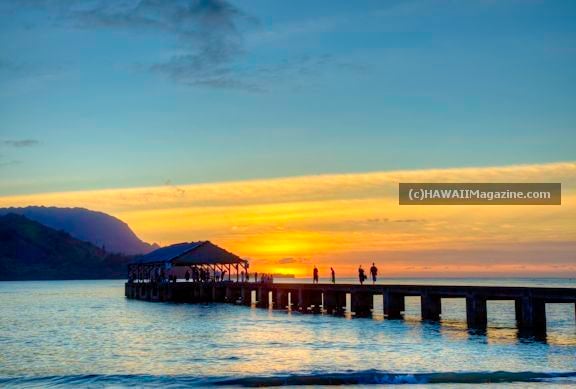 Hanalei, Kauai's charming north shore surf-and-beach town, is blessed with white-sand beaches edging crescent-shaped Hanalei Bay. Formidable mountains and lush ridgelines encircle the bay.
In the current July/August 2011 issue of HAWAII Magazine, we take you in images and words to our favorite north shore Kauai town, beach, bay and river in the photo essay Heavenly Hanalei.
In Hanalei, there are no tall buildings, no cookie-cutter housing tracts, and no modern highways. At times, there is a bit of traffic at the century-old Hanalei River Bridge. The single-lane bridge — the only way in and out of Hanalei — still relies on driver courtesy to keep everything moving.
Hanalei's earliest residents were Hawaiians, who were drawn to the area's abundant fishing and farming opportunities. These days, after a centuries-long absence, lo'i, kalo (irrigated taro terraces) again dominate Hanalei Valley's agricultural landscape. Modern Hanalei also offers an appealing mix of casual and upscale eateries, new and longtime retailers and outdoor activity companies
Pick up a copy of our July/August 2011 issue to learn more about Hanalei's past and present. HAWAII Magazine is sold at bookstores and on newsstands nationwide. Interested in subscribing to HAWAII Magazine? Click here for a low annual subscription rate on our print edition.
As is always the case in our travels, HAWAII Magazine photographer David Croxford happily turned in more photos than we could fit into the print edition. So, we've put together the slideshow below—with text by the story's writer, Derek Paiva—which features more of his excellent shots from Hanalei.
If you are having difficulties in viewing the slideshow, click here.
Enjoy the photo tour!
(Click the slideshow frame to enlarge photos.)