Soar over the North Shore on Oahu's longest zipline
Keana Farms' North Shore zipline adventure is also a fascinating three-hour educational tour.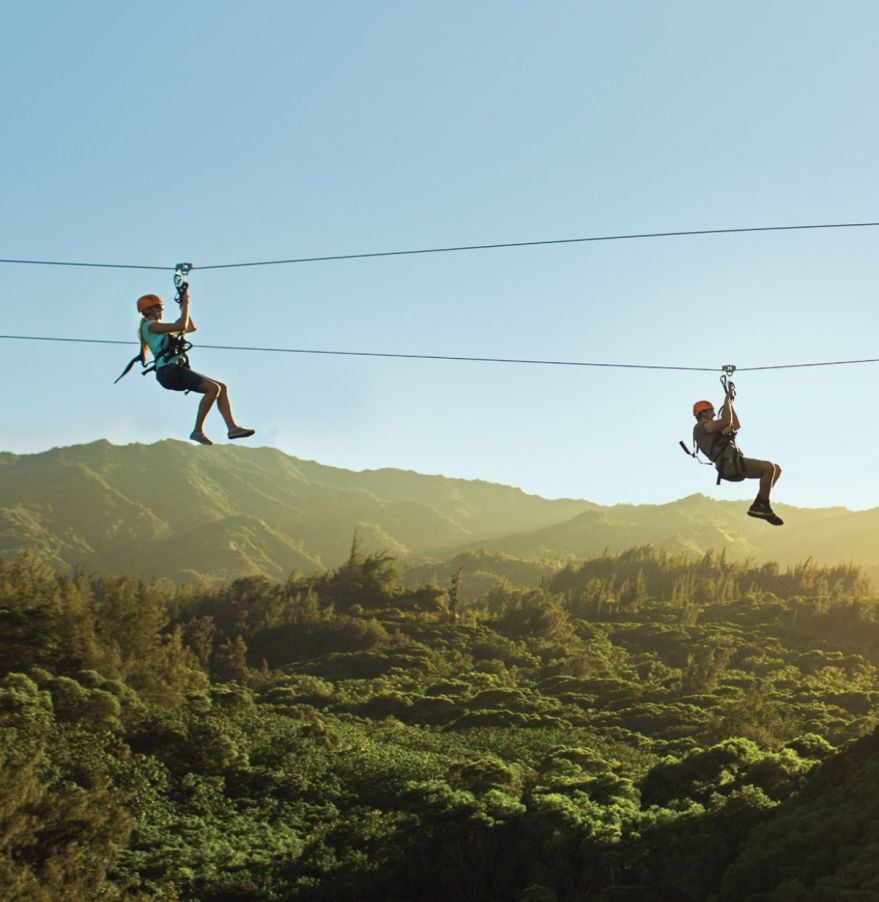 Butterflies fill my stomach.
I'm looking out onto a vast hillside slope of treetops, the famous North Shore beaches on Oahu in the distance, shades of green and blue serene and calming as ever, and I'm being told to fling myself off a dull wooden block propped more than 400 feet above sea level and into all of it.
"Just jump."
This is ziplining at Climb Works Keana Farms and, believe it or not, it really is that simple.
Surely inexperience (this is my first time facing a zipline) and my own trust issues ("Um, aren't you going to quadruple check that I'm securely latched?") want to tell me otherwise: that soaring an average of 40 miles per hour suspended above the foliage of trees and crops as far as the eye can see within a matter of seconds should be a little more complicated, right?
I didn't expect to be so hesitant at that first zipline platform. After all, when I first pulled into Keana Farms in Kahuku, a fresh crop of basil greeted me in a field long enough to double as its parking lot, neatly lined and well manicured. At the welcome desk, a cheery receptionist motioned me to a row of iPads protruding from a wall where I signed an electronic waiver with a single fluid motion of my index finger. It's explained to me by general manager Jesse McVey that Climb Works uses a patented breaker system it invented called a zip-key, a capture device at the end of every line that can automatically slow me down from coming in too fast and slamming flailing-body-first into a stationary object. Despite this violent visual, imagining my gear gracefully locking me into this fail-safe feature at every platform soothed me.
A duo of employees suited me up in a cacophony of metal hooks, buckles, knotted ropes and straps so effortlessly I was reminded of the opening credit sequence of "The Jetsons." Everything at that stage was impeccably handled for me, and organized. Then, all I had to do was just stand there. That is until "there" was me gripping my hands around the handle bars at zipline one of eight.
After taking an initial leap of faith, I felt less hesitant and a little more liberated, a shifting equilibrium of personal bravery achieved by seeing how well oiled this machine was. Let's just say, by its sixth line, celebrated for being its longest at nearly three football fields in length, I'm pretty pumped. And, by the final line, half of my ziplining group had completed it hanging completely upside down in a Spider-Man pose, myself included.
There are over two dozen zipline tour options across Hawaii. Climb Works Keana Farms' claim to local fame is that, at just a year and a half old, it's Oahu's first. Since then, another tour has set up shop on the North Shore as well, but, according to McVey, Keana Farms is still the island's gold standard.
"As far as scale goes, the size of lines and how high you are, and the overall distance you travel, ours is much more vast," McVey says. "We're just a bigger course in general. We're higher from the ground, our longest line is about 2,500 feet, just shy of half a mile. You're a step above, as far as the thrill factor."
Like the ropes and pulley system working in unison on a zipline to get you from start to finish, Climb Works Keana Farms is itself a multiparty partnership: Al Gardner, who owns all the acreage, his business partner, Aaron Campbell, who manages the farming operations at Keana, and Climb Works, a national company that built the zipline course in nine months and also operates it.
That this ecosystem is then woven into the fabric of its original farmlands is no accident. Gardner originally bought the land as a philanthropic endeavor to give back and provide jobs to the local community. This eco-conscious foundation of Climb Works is integral to how it offers not just a different vantage point to experience the North Shore by way of its adrenaline-fueled ziplining, but also to raise awareness of local farming initiatives. Unlike other tours, it's not uncommon to be soaring over lush scenery and glimpse a farmer in a bamboo conical hat slicing through a leafy papaya field below, a fruit you could easily be eating later in a side salad at a nearby restaurant.
"We really want to accentuate the farm aspect of our tour," McVey says, laying out the narrative that unfolds on each learning station (at Climb Works, they don't refer to them merely as platforms). "It's the only reason why we're here. We're an educational farm tour. You go from learning about farming in the ancient times to the plantation era to the current farming system we have based here on-island."
I quickly get a sense of how this philosophy to blend adventure with education is implemented, starting with my three enthusiastic tour guides, Bryan, Jordan and Luna, who are full of random eco-trivia. After "screamiling" (that's scream-smiling) for a camera on the third zipline, Bryan reminds me that the solar panels beside each are what juices these things up all day. While overlooking Kahuku waiting for our turns to strap into the next line, Jordan leans against a placard teaching us about the ahupuaa, the system early Hawaiians followed to evenly divide the land's resources.
But they're full of the practical also. When I'm finally brave enough to whip out my phone to Snapchat a video to clock my speed, Luna doesn't discourage me. "Just make sure the ringer is on," she suggests. 
"In case we need to go looking for it." I've never held my phone tighter in my life.
Aside from the visceral thrill of the ziplines, there's a lot happening in between to keep me on my toes. Three open-air bridges challenge my balance. Two rappels I descend from to reach a lower platform require a modicum of agility. Five automated cameras ask that I exercise some imagination regarding facial expressions. At one point, I'm using a rock to crack open and consume the creamiest macadamia nuts of my life, seeds straight from the tree. However, all of this shouldn't have come as a surprise considering the 10-minute ATV ride up and deep into the forest to kick-start my tour was a bumpy adventure in and of itself. Just be ready for the ride.
---
Reservations required. $169 per person. Participants must be at least 7 years old and weigh under 270 lbs. Open 8 a.m. to 5 p.m., Mon. through Sat., closed Sun. 56 Kamehameha Hwy., Kahuku, (808) 200-7906, climbworks.com/keana_farms.