Soar through Upcountry Maui with two types of zipline tours
A recent visit to Piiholo Ranch Zipline in Upcountry Maui and what to know about two of its most popular tours.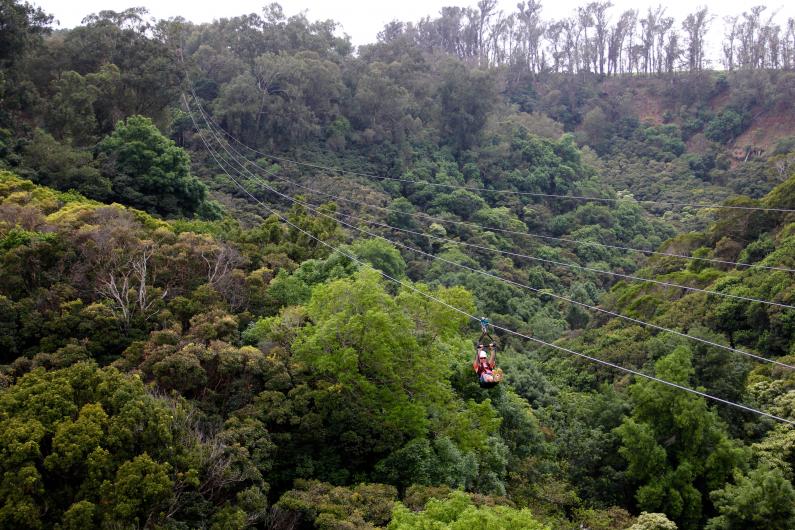 "Zip on," my guide says with a smile, before I soar over a tropical gulch, and pass kukui nut and eucalyptus trees at a speed fast enough to make my eyes water. I've always been curious to try ziplining, but this is my first time. I recently visited Piiholo Ranch Zipline in Upcountry Maui, and flew through two of its most popular tours: a traditional 5-line zipline tour and the 6-line treetop zip tour.
The tours on the 800-acre ranch cater to two kinds of people: those who like traditional ziplines and those who prefer the high-flying canopy zipline tours. The mountain air is crisp and light. Wild pigs, horses, rare birds, bountiful butterflies, and even chameleons are common sights. Legendary ohia trees dot the dense greenery. There is even an endangered nene (Hawaiian goose) habitat on property.
The traditional zipline involves heights of up to 600 feet, light hiking in between zip spots and an ATV ride to the top of scenic Piiholo Hill for the last line.
The canopy tour lets you zip tree-to-tree with six or seven line options. Some are as long as 930 feet. The highlight for me was a 42-foot quick-drop that involves stepping off a platform and landing onto a crashpad.
Both have walks over suspension bridges. Also, the traditional course allows you to be completely passive as you soar over tropical vegetation, but the canopy zip requires some steering. You'll feel the adrenaline for both, though, because at some point you have to lift your feet up and just trust the equipment.
Now might be a good time to mention a third category of people: those who are absolutely terrified of ziplining. I do not fall into that category. Yes, I'm afraid of heights, like many people, but the comfort of being attached to something, and the meticulous clipping of multiple carabiners, is enough to keep my pulse from racing.
Sometimes people cry. They freeze up. Your zip group becomes your temporary ohana. You talk them through it. Encouraging words and cheers start to come from even the most shy of people.
"You overcome fears, and then you come to some other little challenge in life later, and say, 'I can overcome this.' It's about personal growth," owner Jeff Baldwin says. It's one of those rare activities that's thrilling, but appropriate for the whole family. After the first line, it's usually all smiles.
---
Open daily 7 a.m. to 7 p.m., 799 Piiholo Rd., Makawao, Maui, (808) 572-1717, piiholozipline.com.