Song samples of the 5 best Hawaii albums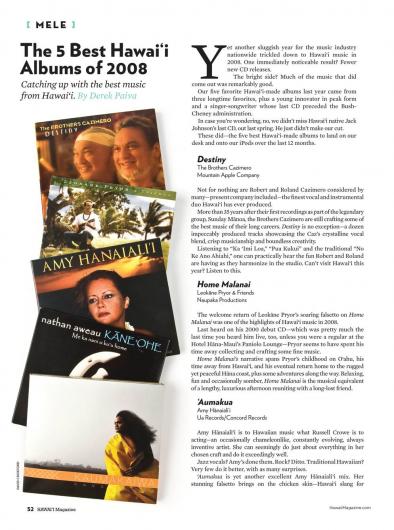 HAWAII Magazine reader Rosemary Grutt e-mailed us:
I'd love to hear song samples from your favorite five albums of 2008, as mentioned in the article in my January/February 2009 issue of HAWAII Magazine. I went online and tried to find a link but was not successful. Please tell me where the link is. Mahalo.
Click here to hear the song samples mentioned in "The 5 Best Hawaii Albums of 2008," including:
• Destiny, by The Brothers Cazimero (Mountain Apple Company)
• Home Malanai, by Leokane Pryor and Friends (Naupaka Productions)
• Aumakua, by Amy Hanaialii (Ua Records/Concord Records)
• Kaneohe, by Nathan Aweau (Bass Plus Music Arts)
• Kaumakaiwa, by Kaumakaiwa Kanakaole (Mountain Apple Company)
If you like what you hear, our online editor Derek Paiva even included links in his article about where you can purchase these CDs.