Southern Accents: Exploring the Big Island's remote South Point
Ka Lae is the definition of an off-the-beaten-path destination.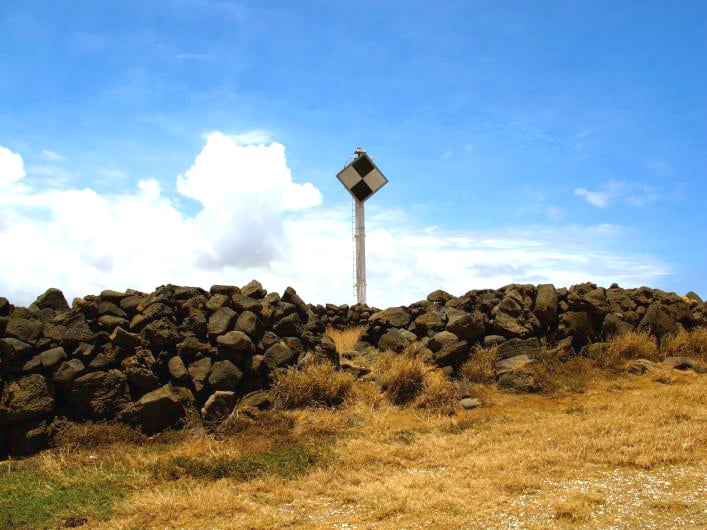 For 15 minutes this spring I was the southernmost person in the United States.
It happened near the beginning of my morning exploring the near-flat swath of dry, wildly windswept coastal grasslands and dirt dunes surrounding Ka Lae, the geographic southernmost point of the Big Island and the Hawaiian Islands. I was standing on a small lava-rock outcropping jutting out into the blue Pacific, safely distant from tide pools replenished by an endless march of angry, crashing waves. No one was waiting in line to be the next southernmost person in the U.S.
The nearest human souls to me were a trio of shoreline fishermen several hundred yards away, perched on sea cliffs facing the calmer, crystalline waters of Ka Lae's west side. They were inhaling Spam, teri-beef and fried chicken from their bento lunches while waiting for fish to bite. Beyond them, a dozen or so others—judging by their rental cars, probably first-time Ka Lae visitors like myself—gazed wide-eyed at the odd-for-Hawaii, prairielike landscape surrounding them.
The bragging rights that come with being as far south as anyone can get in the U.S was so geeky cool, I immediately blasted hastily shot iPhone photos to friends back in Honolulu and our HAWAII Magazine Facebook page.
"Wish you were here," and all that.
The moment duly captured, the iPhone was returned to my backpack soon enough, replaced in my hand by my black notebook. The distinction of being the southernmost person wasn't the only reason I'd come to Ka Lae.
Though raised on the Big Island, I had never visited the 710-acre peninsula most locals simply call South Point. That wasn't an odd thing. Located at the end of a 20-mile, single-lane road marked by blind turns and, near its end, rental-car-rattling ancient asphalt, Ka Lae ("the point," in Hawaiian) is the definition of off-the-beaten-path destination on an island loaded with such places.
Still, even with zero visitor amenities, Ka Lae is for the ever-curious Big Island traveler, a virtually untouched, blessedly tranquil wilderness area rich with its own unique history, both ancient and recent.
Archaeological work in the Ka Lae area, a designated National Historic Landmark District since 1962, has produced the longest and most complete historical record of human occupation in the Islands. Ocean voyagers from the Marquesas Islands, more than 2,000 miles southeast of Hawaii, are believed to have settled at Ka Lae as early as 124 A.D. Though no one resides at Ka Lae now—its acreage is owned by the Department of Hawaiian Home Lands—foundations of ancient stone heiau (shrines) and home sites are still found along the coastline, which is as productive a fishing ground now as it was millennia ago due to swift currents around the point. One of the most well-preserved of the area's remaining heiau, Kalalea, perched on a dirt dune overlooking the rugged lava shoreline of Ka Lae's southernmost landfall, is believed to have honored Kuula, a Hawaiian fish deity.
Kealako Bay, looking north from Ka Lae.
If your visit to Ka Lae isn't prompted by sightseeing or a hike to Papakolea "Green Sand" Beach, two miles north on the point's east-facing coastline, chances are you've arrived to do some fishing. The intersecting ocean currents that make Ka Lae's due south offshore waters dangerous for nearly all ocean activities make it one of the state's best, if most remote, places for shoreline fishing.
After hiking the short distance from Kalalea Heiau to a trio of dilapidated wood launches—the point's only manmade landmarks other than a smallish, rusted marine craft light tower—I stopped to observe the fishermen I'd seen earlier prepare lines to send out.
Century-old wood launches at Ka Lae.
To safely get to the powerful currents where the most prized fish swam, without being swept away themselves, Ka Lae's earliest settlers would tie their fishing canoes to loops carved into the cliff's lava rock and let the wind and current take them out to sea. Modern-day fisherman at Ka Lae, including the resourceful trio I watched, have their own to spin on that ancient method. Attaching fishing lines to floating boards fitted with plastic bags to catch the wind, the anglers I watched let nature haul their makeshift watercraft into the current while they sat watching anchored shoreline poles for bites.
From 1941 to 1953, Ka Lae was home to Morse Field, a 21-acre temporary U.S. Army airfield, used primarily for aircraft refueling after World War II. The Morse Field site was next briefly used by the U.S. Air Force as a communications and space tracking station in 1965 and, in 1979, as a Space and Missile Test Center before being permanently abandoned. Except for a handful of abandoned Morse Field structures and a line of massive, modern wind turbines visible a few miles north of the point, the Ka Lae peninsula is all grasslands pockmarked by sturdy kiawe trees, many bent into fascinating near-horizontal positions due to constant, powerful ocean winds.
Many of the wild kiawe trees near Ka Lae are bent into near-horizontal positions due to the peninsula's constant, powerful ocean winds.
After a few hours of exploring coastline tide pools, structures, dirt dunes and nearby Papakolea Beach—one of only two green sand beaches in the world—I returned to Ka Lae's southernmost point, still devoid of visitors.
A friend on Oahu had told me that his impression of standing at the point and staring out to sea was akin to standing at the edge of the world. Indeed, with just the ocean and horizon in my sightline, and no land due south for more than 7,000 miles until landfall in Antarctica, I found his description very apt.
I sat for a while. And for a few more minutes, I was again the southernmost person in the U.S.