Spam looking for some Hawaii flavor — on its label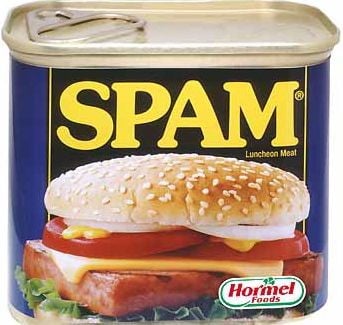 It's no secret that lots of Hawaii residents love Spam.
Spam musubi. Spam loco moco. Spam and eggs with rice breakfasts—even at Hawaii McDonald's restaurants. Spam cookbooks. Whether you eat it or avoid it, its part of the vernacular of Hawaii cuisine.
With residents consuming more than 6 million pounds of it a year, Spam is the closest thing to the state of Hawaii's official canned meat product. So the company that makes Spam is saluting the state that eats the most of it.
Minnesota-based Hormel Foods is holding a contest for a Hawaii-designed label for its Spam product.
"It was finally time to create a Spam label made for Hawaii," said Hormel product manager Jen Ostervich, according to the Associated Press.
Hawaii residents have until Feb. 18 to submit their designs. The winning entry will appear on cans of reduced sodium Spam—the top-selling of the eight types of Spam found on supermarket shelves in Hawaii. The winner, to be announced on April 30 at the annual Waikiki Spam Jam, will also get $1,000, a Spam product gift bag and, of course, a case of Spam.
Though only Hawaii residents can create the design, everyone can vote for their favorites from Feb. 21 through 25. Hormel will pick the winning design from the five designs receiving the most votes from the public.
The prize for the four runner up designers? A case of Spam and a Spam gift bag.
We suggest Hormel also gift all of its winners with a Spam musubi press for their home kitchens. Trust us, they'll need it.