Spend an evening in New Orleans … in Honolulu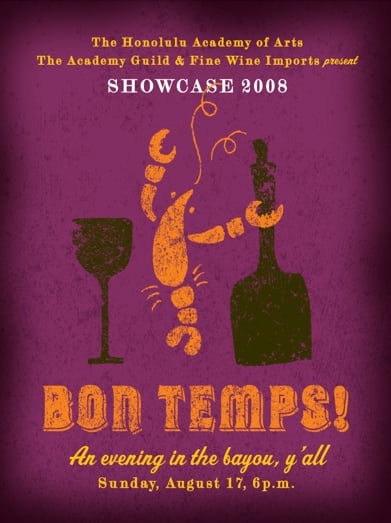 Ah, an evening in the Big Easy's once nouveau riche Garden District!
Refined men and women in their post-sunset finest. Jazz and zydeco drifting on gentle breezes scented by Spanish moss. Boiled crawfish. Jambalaya. A frosty mint julep to wash it all down.
All you need to get there is a ride to the Honolulu Academy of Arts.
Better believe we're digging the "Bon Temps!" theme behind this year's Showcase—the Honolulu Academy of Arts' annual food-and-wine-filled fundraising gala for itself.
This year's party happens on Aug. 17, from 6 to 9 p.m., at the Academy. Go and you'll be helping fund Academy art education programs for Hawaii youth.
Expect Creole and Cajun cuisine a la Honolulu chefs Chai Chaowasaree (Chai's Island Bistro), Ronnie Nasuti (Roy's Hawaii Kai) and Kevin Hanney (12th Avenue Grill). Then expect still more eats from Formaggio, E&O Trading Co., Mariposa at Neiman-Marcus, Kevin Two Boots, the Academy's own Pavilion Café and other fine dining establishments.
Sway elegantly to jazz from the Kevin Leong Quartet in the premium table section, or groove barefoot to DJed upbeat jazz and zydeco with the rest of us in the courtyard.
Since an evening in the Big Easy sans libations seems to us outright sacrilegious, pours from 16 wineries will keep attendees well-oiled—at least until the after parties.
Tickets are $85 per person, $150 if you want reserved seating. A premium table for 10—with catered service and wines? That's $5,000.
Money for a good cause. But son of a gun, you had better have some fun on this bayou.
Purchase tickets here, or by calling 808-532-6099. For information call 808-532-3671.