Stargazing anniversary celebrations slated for two Big Island astronomy sites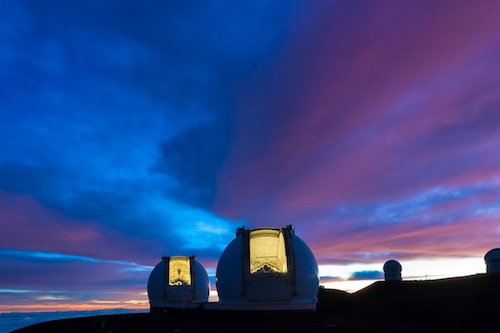 Two astronomy-related anniversary celebrations are slated for this month on the Big Island.
Imiloa Astronomy Center in Hilo will mark its seventh anniversary on Sun., March 10 with a birthday bash featuring a series of special presentations given by top astronomers and on topics ranging from the latest stargazing discoveries to the ongoing "quest for alien worlds." For more information about the day's free festivities, click here.
Six days later, on the summit of the Big Island's Mauna Kea, the tallest mountain in the Pacific Ocean, the twin Keck telescopes, which are able to peer farther into the cosmos than any other research facility, will mark two decades of world-class star-gazing service.
The Keck I telescope made its debut observations on March 16, 1993, with Keck II following three years later. Each standing eight stories tall and weighing 300 tons, the telescopes have guided astronomers and astrophysicists in revolutionizing our understanding of everything from the workings of our own solar system to details about the most distant galaxies in the "early universe."
Reason enough to throw a weeklong W.M. Keck Observatory 20th Anniversary Celebration? You bet your lucky stars.
Slated to get under way on March 13 and wrap up on March 19, Keck Week 2013 will feature under-the-stars presentations given by some of the planet's leading astro-scientists; an open house at the observatory, complete with plenty of hands-on exhibits; and a fundraiser gala in support of the ground-based astronomy facility's future.
Among the top achievements made at W.M. Keck Observatory: Nobel Prize-winning research that found the universe is expanding at an accelerating rate; proof that our own Milky Way galaxy has a supermassive black hole at its center; detection of the first "exoplanet" (a planet orbiting another star — outside of our Solar System); and discovery a new population of cosmic objects, now known as "dwarf planets, which led to the demise of Pluto's planet status.
For more information about Keck Week 2013, click here.