Start Hiking Again at Hawaiʻi Volcanoes National Park
Kīlauea summit area trails, Kīlauea Iki Trail and more have reopened on June 15 after the national park temporarily closed due to COVID-19.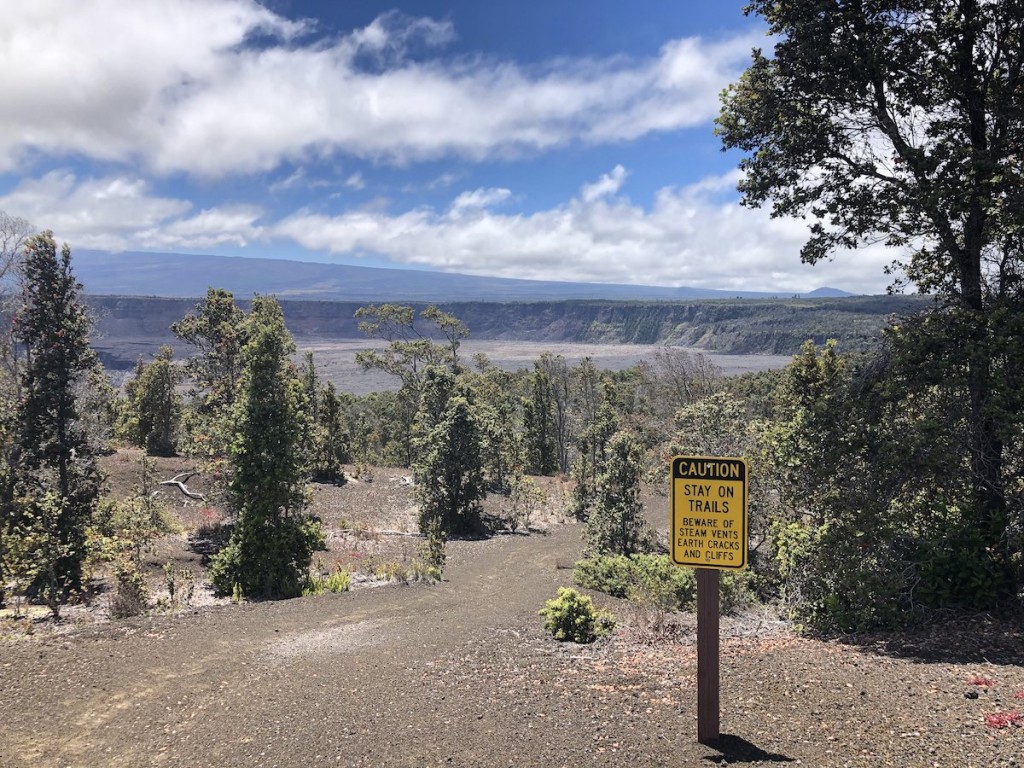 A month ago, Hawaiʻi Volcanoes National Park began increasing access to its 335,259-acre national park on Hawaiʻi Island, coinciding with the state slowly reopening beaches, parks, malls and other public places.
On June 15 the park rolled out its next phase of reopening, which includes some of its most popular hikes with new guidelines on safety and social distancing. (Haleakalā National Park reopened parts of its park on June 12, though sunrise and sunset viewing are still closed.)
Here's what you can access now:
Crater Rim Drive to Kilauea Military Camp, and to Devastation Trail parking lot.
Kīlauea summit area trails, including 1.1-mile Byron Ledge Trail, which has been recently repaired following the 2018 eruption and summit collapse; the 1-mile Devastation Trail through the 1959 Kīlauea Iki eruption; and Halema'uma'u Trail, which descends through a rainforest and offers a panoramic view of the floor of Kīlauea caldera.
Kīlauea Iki Overlook and Trail (one-way counterclockwise loop only), which meanders through a rainforest and across the floor of the solidified Kīlauea Iki Crater lava lake.
Chain of Craters Road to Mauna Ulu parking lot.
Pu'uhuluhulu and trails near Mauna Ulu, including Nāpau and Nāulu trails.
Ka'ū Desert and Mauna Iki trails (day use only).
What's already open:
Mauna Loa Road to Kīpukapuaulu for vehicles, bicyclists and hikers, including Tree Molds and Kīpukapuaulu Trail. (The pavilion, picnic area and restroom remain closed).
Mauna Loa Road past Kīpukapuaulu is open for hikers and bicyclists to Mauna Loa Overlook at 6,662 feet, but is closed to vehicles for wildfire prevention.
Footprints Trail from Highway 11 to the Ka'ū Desert Trail and Mauna Iki Trail junction, including the Footprints shelter.
Escape Road, for bicycling, horseback riding and hiking.
Park fees resume, too, so you'll have to pay to get into the park. (Get info on fees here.)
Other business in the park are slowly reopening, too. Volcano House reopened its retail on June 15, then started offering curbside pickup and takeout from its restaurant. The hotel reopened on June 22, though the Nāmakanipaio Campground is still closed and the restaurant isn't offering dine-in service yet. Volcano Art Center Gallery, located within the park, reopened on June 17.
If you're planning to visit the park, you will be urged to recreate responsibly and follow these guidelines:
Practice social distancing. Maintain at least six feet of distance between you and others.
Wear a face covering when social distancing cannot be maintained.
Wash your hands often with soap and water for at least 20 seconds or use your hand sanitizer.
Cover your mouth and nose when you cough or sneeze.
Avoid touching your eyes, nose, and mouth.
If you feel sick, please visit another day.
Let wildlife be wild. Do not feed nēnē (Hawaiian goose) and look out for them on roadways and in parking lots.
For updates on Hawaiʻi Volcanoes National Park, visit here.
SEE ALSO: