Starwood stays: Where to find Starwood hotels and resorts in Hawaii
These picturesque properties offer the best in modern luxuries and revitalizing experiences.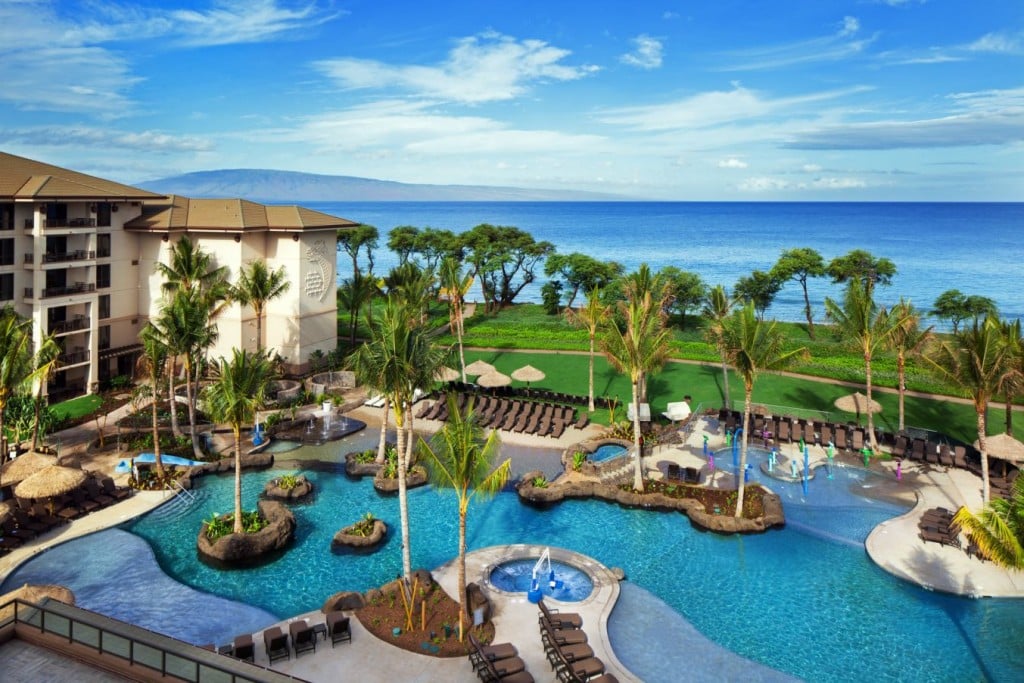 Kauai
The St. Regis Princeville
Located on a lush green sea cliff with one of Hawaii's most glorious views of the Pacific Ocean and the mystical Namolokama Mountain, the St. Regis Princeville is the address for life's celebrations. In this perfect tropical setting, rare amenities and exquisite luxuries offer endless pampering. And our truly refined and inspired services satisfy your every need.
The Westin Princeville Ocean Resort Villas
Situated along a bluff 200 feet above the sparkling blue Pacific Ocean, The Westin Princeville Ocean Resort Villas blends into its serene surroundings on Kauai's north shore. The resort features spacious accommodations with all the comforts of home and the modern luxuries of a resort with four revitalizing pools, restaurants and a general store spread across 18.5 oceanfront acres.
Sheraton Kauai Resort
Nestled into 20 oceanfront acres along sunny Poipu Beach, Sheraton Kauai offers guests expansive vistas of the Pacific Ocean and tropical gardens of Hawaiian flora. The resort's marquee restaurant, Rumfire Poipu, is the ideal location to enjoy a beautiful sunset dinner.
Oahu
Sheraton Waikiki
Situated in the heart of Waikiki, Sheraton Waikiki has redefined the Hawaiian vacation. From a unique arrival experience, spacious guest rooms featuring incredible views and an exciting Infinity Pool to invigorating spa treatments and endless dining venues, we welcome you to experience The New Breath of Aloha.
The Royal Hawaiian, a Luxury Collection Resort
The famed 'Pink Palace of the Pacific' is an icon of international luxury. With a host of unprecedented amenities, unrivaled accommodations, and exclusive services, the resort caters to the most discerning modern travelers while maintaining the spirit of its romantic past. The resort's newly imagined Mailani Tower offers modern luxuries in this historic resort.
The Moana Surfrider, A Westin Resort & Spa
With its beaming white facade, 'The First Lady of Waikiki' opened its doors in 1901. Over 100 years later, this iconic resort continues to share genuine Hawaiian hospitality with the world. The Moana Surfrider, A Westin Resort & Spa maintains its refined presence. Yet, as a Westin hotel, it provides a sense of renewal, offering a place where you can be at your best. Experience intuitive service and comforts that will transform your body, mind and spirit.
Sheraton Princess Kaiulani Hotel
Built on land that was once the estate of its namesake, Hawaii's last and most beloved princess, the Sheraton Princess Kaiulani is a garden oasis in the heart of Waikiki. The hotel's heritage of aloha extends through gracious service and creates an atmosphere that rivals the most inviting Hawaiian home. Cultural events and seasonal gatherings on property offer a sense of place, while endless ocean activities welcome you to experience the world's most legendary beach.
Maui
Sheraton Maui Resort & Spa
At the foot of the legendary Black Rock, Sheraton Maui Resort & Spa overlooks the pristine Kaanapali Beach and the blue Pacific. Surrounded by 23 acres of lush gardens and lava rocks waterways, it welcomes travelers, honeymooners and families to an enchanting world of comforts and luxuries, creating experiences that are truly unique and memorable.
Westin Maui Resort & Spa
Rediscover yourself at The Westin Maui Resort & Spa, Where Heaven and Aloha Meet™. Situated along a spectacular stretch of the famed Kaanapali Beach, this resort offers a haven of rejuvenation. With intuitive service, welcoming amenities inspired dining choices and an endless list of activities that are all designed to elevate and revitalize your senses.
Westin Kaanapali Ocean Resort Villas
Set amidst the sundrenched North Kaanapali Beach, The Westin Kaanapali Ocean Resort Villas offers a unique blend of resort and condo living with plush comfort and conveniences of an island home. Enjoy a luxurious retreat in a stylishly designed studio or villa, extraordinary comforts and amenities of a full service resort, along with Westin's standard of quality and service.
Westin Nanea Ocean Resort Villas
Kaanapali's newest luxury resort. Situated on 16 acres of Maui's Kaanapali Beach, The Westin Nanea Ocean Villas is designed to provide a relaxing haven replete with culturally inspired programs and authentic Hawaiian experiences.
Hawaii Island
Sheraton Kona Resort
Sheraton Kona Resort & Spa at Keauhou Bay on Hawaii Island, is a blend of adventure, culture, heritage and authentic Hawaiian aloha hospitality. Situated on the iconic lava rocks of the Kona coast, overlooking historically significant Keauhou Bay, guests can relax, experience and create memories with family and friends.