Stay Connected with Hawaiʻi Through Aloha Spice Co.
This Kauaʻi-based family-run company shares the unique flavors of the Islands through its spice blends and rubs.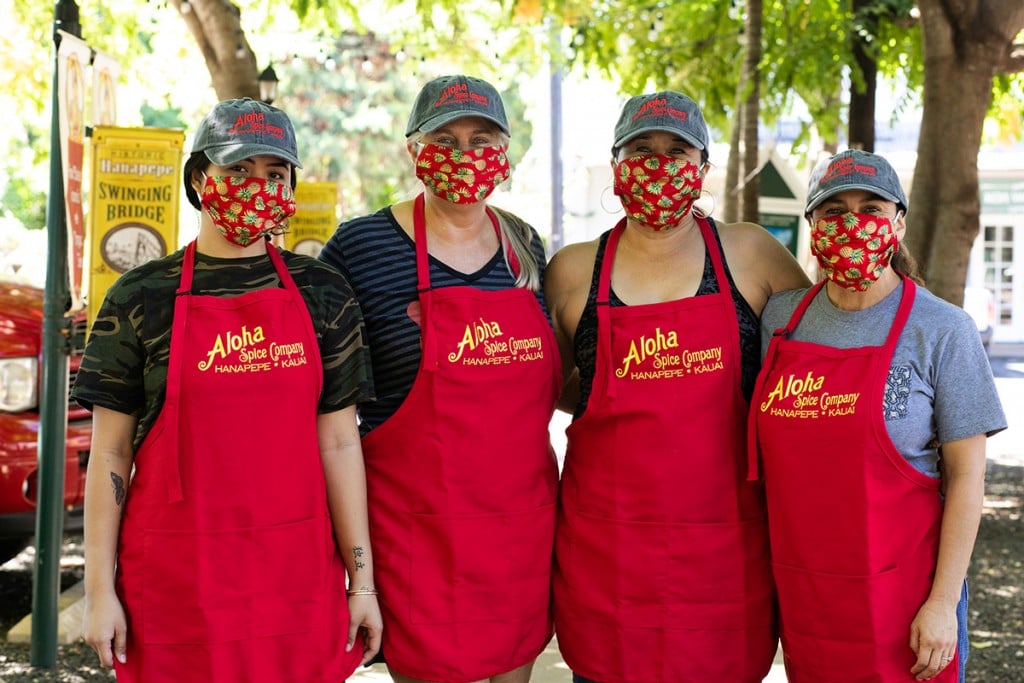 If anyone understands the emotional connection you can have with a place—like Hawaiʻi—it's Joanna Carolan.
Her grandparents moved to Kauaʻi in 1968 and, as a child, she would spend entire summers on the island, hiking the fabled Nāpali Coast and visiting botanical gardens with her grandma. She even lived on Kauaʻi for a year as a teenager and attended Kapaʻa High School. "I always, always had the best memories of my growing up in Kauaʻi," she says.
So it was no surprise that, years later, after college and living in Australia, Carolan moved to Kauaʻi. "My grandparents were getting older and I came over to spend time with them," she says. "Then I decided why would I want to live anywhere else?"
She understands how much people can connect to a place—and, through her company, Aloha Spice Co., she wants to help people connect to Hawaiʻi through food.
It was also a way for Carolan to connect with her dad, who spent his entire career in restaurants. He died in 2004.
"After he passed, I started thinking of ways I could honor his memory and connect with him," he says. "And who doesn't like food?"
Carolan, who had been running Banana Patch Studio, an art gallery in Hanapēpē, launched Aloha Spice Co. in 2007, using peppers and herbs that grew on her mother's 3.5-acre home farm on the north shore. She liked the idea of creating organic spices because it's a way for people to re-create the flavors of the Islands in the dishes they make at home. "Plus, I'm a lazy cook," she says, laughing. "I wanted to do something that would be quick and easy and really flavorful."
She worked with Michael Simpson, executive chef at Living Foods Market in Kōloa, to come up with a line of spices that reflect the multicultural flavors of Hawaiʻi. Aloha Spice Co. has versatile rubs like the Organic Aloha Chicken & Pork—a bestseller that can also be used on veggies—and a line of Molokaʻi sea salts that includes a mineral-rich red ʻalaea salt often used in kālua pig and poke. The company also released coffee rubs using estate-grown Kauaʻi Coffee blended with herbs, spices and Hawaiian sea salt.
Carolan also wanted to re-create the smoky flavor you get when you cook in an ʻimu, or underground oven, popular in the Islands. So she experimented with smoking Hawaiian salts. Using kiawe wood was a no-brainer, but she also discovered the milder smokiness of strawberry guava, which is an invasive tree in the Islands. So it's a win-win.
"We get our woods from the Big Island and smoke our salts for over 20 hours," she explains. "It's a wonderful way of adding a little smoky flavor to your food."
With the spread of COVID-19 stalling travel to the Islands, Carolan has relied heavily on online sales of her products. She offers private shopping experiences at her charming retail shop in Hanapēpē, limiting the number of people to keep everyone—including her employees—safe.
"We are really so appreciative of our customers continuing to support us online," Carolan says. "This is how we're staying in business."
Aloha Spice Co., (808) 335-5944, alohaspice.com