Summer solstice ideal time to see restored Hawaii heiau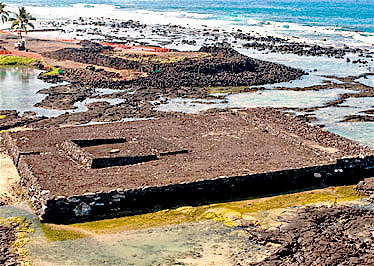 On Friday—the summer solstice—the sun will set on the southeast corner of the newly restored Hapaialii heiau on Hawaii's Big Island.
Billy Fields is sure.
He wasn't so sure last December 21—the winter solstice. That day, Billy Fields sat gazing nervously at the heiau, originally built in the 1400s, possibly as a place to honor alii (royalty) and as a seasonal calendar. For months, Fields had led a small group restoring this important Hawaiian temple, now situated along the shoreline at the Outrigger Keauhou Beach Resort.
If the predictions of Hawaiian cultural experts were correct, the sun would set exactly at the southwest corner of the newly restored heiau. Field breathed easier: It did.
Three months later on the spring equinox, March 20, the sun set exactly in the middle of the western wall. Success.
You don't have to wait for the stars to align to feel the power of Hapaialii. On the stunning, storied shoreline where the Keauhou Resort stands, anyone can approach the 150 by 100 feet heiau's massive ancient rocks in the restored walls. During high tide, the heiau is completely surrounded by swirling ocean waters.
Kamehameha Schools owns the resort and paid to restore Hapaialii. Fields, a master "dry stack" mason, will continue restoring two other nearby heiau.
Just up the road from the resort in the Keauhou Shopping Center is a newly opened Keauhou Kahaluu Heritage Center, where you can learn the history of the area.
But make sure you visit Hapaialii. You'll be uplifted.