Sunset on the Beach free movies return to Waikiki this weekend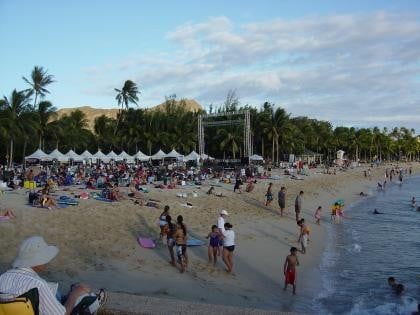 HAWAII Magazine reader Judy Fleischer wrote to us with a question about the only movie theater in Waikiki that comes complete with sand, surf and the sound of swaying palms.
Aloha! I am planning our next trip to Oahu. On our last trip in 2004, an event called "Sunset on the Beach" was going on. It was really nice. Can you tell me it it is still an event in Waikiki? If so, when during the month is it scheduled?
You ask. We answer.
The quickest answer to your first question, Judy, is, "Yes, sort of." The answer to your second question: "Weekly Sunset on the Beach events are no more, but a couple of stand-alone ones are happening this weekend."
But first, an explanation of what exactly Sunset on the Beach is might be appreciated.
Sunset on the Beach is a popular evening event, capped off by movies screened on a 30-foot screen set up in the sand fronting Waikiki Beach's Queen's surf break. The flicks run the gamut from the latest Pixar movie, to action films and romantic comedies, to preview episodes of Hawaii-filmed TV series Lost before broadcast on ABC. But movies aren't all the event is about.
Live music or hula often kicks off the Sunset on the Beach first in the afternoon, coaxing hundreds of residents and visitors to come out a bit early to stake a place in the sand for their beach mats. Food booths set up by local restaurants serve everything from shave ice to plate lunches to loco moco.
Once the sun sets, dimming the skies above the makeshift outdoor theater, the show begins. It's a great family event in a truly one-of-a-kind setting—especially so when a bright full moon rises over neighboring Diamond Head crater.
The event is free, organized by the Waikiki Improvement Association, and paid for by the City & County of Honolulu and private sponsors. Mostly due to financial constraints, Sunset on the Beach's schedule these days is more spotty than when Judy visited in 2004. Sunset on the Beach screenings were near weekly at that time.
There's some good news, though. After an entire summer season without an event, Sunset on the Beach returns to the beach this weekend for Saturday and Sunday night screenings of recent summer blockbusters, courtesy of lead event sponsor Tesoro Hawaii.
Showing on Sat., Aug. 29, at 7:30 p.m. is Night at the Museum: Battle of the Smithsonian, starring Ben Stiller, Owen Wilson and Amy Adams, just released to theaters in May. Showing on Sun., Aug. 30, at 7:30 p.m., is Harrison Ford's summer 2008 return to the bullwhip and fedora, Indiana Jones and the Kingdom of the Crystal Skull—partially filmed on the Big Island of Hawaii (photo, above).
Food booths open at 4 p.m. both days, with live entertainment kicking off at 5:30 p.m.
Sadly, no future Sunset on the Beach events are currently scheduled for the remainder of the year. Keep checking HawaiiMagazine.com's events calendar for updates.